by Brianna Crandall — December 1, 2014—New York City-based architectural and interiors firm ManciniDuffy has released findings from The Coordinate, its periodic survey on workplace trends that tracks changes occurring in the workplace.
The most recent survey indicates that less than one-quarter of the work performed in a single day requires a face-to-face interaction. With the rise of technology, much of the workday — even the most productive morning hours — is reportedly spent corresponding via e-mail or conference call.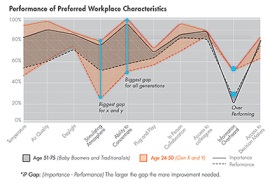 ManciniDuffy's series of surveys is testing the hypothesis of "the dissolution of the traditional workweek.
(Click on image to enlarge)
The survey results also show that for employees, being able to work at times that are most productive and being able to have a choice of places to work is not a case of either/or, but of both/and. "Employees want flexibility and choice," said Fran Ferrone, ManciniDuffy's Director of Workplace Innovation.
Additional findings show:
Gen X and Y's biggest dissatisfaction is "lack of stimulating atmosphere."
While concentration is a problem for all, it is less so for Boomers and Traditionalists (who occupy the majority of private offices).
Despite the trend toward collaboration, all generations say "information overheard" is over-performing.
These findings are the second in a series of surveys being conducted by ManciniDuffy this year to test the hypothesis of "the dissolution of the traditional workweek." The next survey, addressing "sources of inspiration and motivation," will round out the series. Complete results (and their implications) will be published in early 2015.
To participate in the next Coordinate survey, visit ManciniDuffy's "Resources and Inspiration" Web site.