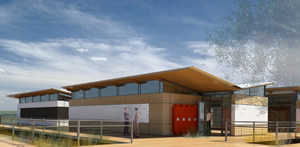 by Rebecca Walker — October 28, 2009 Charlottesville, Virginia architecture firm Perkins+Will recently partnered with DeKalb County Schools and won an international award in the 2009 Open Architecture Challenge: Best Re-locatable Classroom design.
Perkins+Will worked with Druid Hills' students and teachers to design a sustainable re-locatable classroom. Students in DeKalb County are now one step closer to getting a greener and healthier classroom space.
The Modular Building Institute (MBI) was a school building partner of the recent competition, providing a $5,000 grant from the MBI Educational Foundation (MBIEF) to help build the PeaPod the winning re-locatable entry.
The primary function of re-locatable classrooms is to provide additional educational spaces to existing school facilities, most often on a temporary basis. The re-locatable classroom implements cost-conscious building materials to create a learning environment that can be adapted to any environment.
The design gives students and teachers a sustainable learning environment with low utility costs due to sustainable design features such as sun shades, integrated rainwater collection, photovoltaic roof panels, use of sustainable materials, generous daylighting, operable windows and natural ventilation.
The interiors are comprised of walls that slide to reveal breakout learning space, storage, glazing or teaching surfaces. Each side of the re-locatable classroom serves a different purpose, whether it is a wet wall with bathroom facilities, a glass wall which opens to provide access to an exterior classroom space or a deep wall that provides ample storage.
Unlike typical school trailers, this classroom was designed with children's health and various learning styles in mind. This classroom's environment is adaptive and is equipped to meet all of the needs of the students.
The 2009 Open Architecture Challenge, hosted by Architecture for Humanity, is global initiative that invites the architecture, design and engineering community to collaborate directly with students and teachers to rethink the classroom of the future.
For more information, see the Web site.
Established in 1935, Perkins+Will is an integrated design firm serving clients from offices in Atlanta, Boston, Charlotte, Chicago, Dallas, Dubai, Hartford, Houston, London, Los Angeles, Miami, Minneapolis, New York, Orlando, Research Triangle Park, San Diego, San Francisco, Seattle, Shanghai, Vancouver, and Washington, D.C.