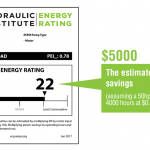 If you need to replace a pump, look for one with this new label; it will use less energy and may be eligible for rebates
Need to identify potential active shooters but keep visitors moving quickly? Check out Evolv Technology's weapons-detection system
See what to expect for 2020 office, industrial and retail rents in this RICS report
Get your updated mechanical, lighting and building envelope energy efficiency standards from ANSI/ASHRAE's new release
If you need a write-on glassboard that is mobile and can go from room to room, check this one out. Fully customizable, too
If you plan to replace or install new carpet, see what Interface has learned over the years to do this and satisfy your net-zero goals at the same time
What do industrial operations managers plan to spend on in 2020, and which technologies do they prefer?
See how you can take control of your cleaning operations and improve efficiency with this new cleaning management software
Want to equip your educational facilities staff to meet today's complex challenges? APPA can bring campus-specific training right to you
If you're looking for a powerful but affordable floor scrubber for high-traffic areas, this easy-to-use Classic may fit the bill
Now you can get maintenance management and FM capabilities all in one platform, with iOffice's acquisition of Hippo CMMS
more news »
Featured Articles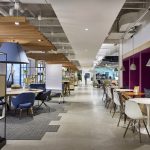 The evolving role of the FM in dealing with workplace change
How today's workplace changes are impacting the FM
Emergency preparedness at your fingertips
The new roles for technology in your emergency preparedness plans
Property managers rally in the face of real crises
Three property professionals tell how their preparedness plans were put to the test
A "Living Plan" for a changing world
Today's changing approach to emergency preparedness for your buildings
Proper storage tank management
How to deal with environmental health and safety issues caused by storage tanks
Benchmarking your security staffing
Seven tips from best managed cleaning operations
Best ways to save your cleaning staff time
Have you scheduled your annual workplace assessment?
Troubleshooting refrigeration system problems
Here comes the charge: Preparing for the surge in electric vehicles
Best practices for maximizing and managing smart EV charging station investment
Successful sustainability
How the industrial IoT paves the way for successful sustainability programs
more featured articles »
Upcoming Events
Nov 18 - Nov 21 : ISSA Show North America 2019 (cleaning, maintenance, FM)
Nov 19 - Nov 22 : Greenbuild International Conference and Expo 2019
Nov 20 - Nov 21 : International Security Conference and Exposition East (ISC East 2019)
Nov 26 - Nov 27 : Build2Perform Live 2019 (building performance)
Nov 27 - Nov 28 : EMEX: The Energy Management Exhibition 2019