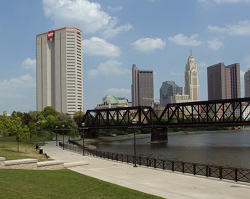 American Electric Power headquarters, Columbus, Ohio.
Developed by the U.S. Green Building Council (USGBC), LEED is an internationally recognized rating system that certifies the greenest performing buildings in the world. For existing building owners, LEED offers a significant opportunity to reduce the environmental impact of their real estate holdings; but improved operating efficiency and documented savings also provide facilities like American Electric Power's (AEP) Columbus headquarters with a market-leading advantage.
One Riverside Plaza is a 31-story, 813,639 gross-square-foot building owned and occupied by AEP. Built in 1983, the property is situated along the banks of the Scioto River between the Uptown and Arena districts of downtown Columbus, Ohio. The building houses a visitor gallery, conference center, full-service cafeteria, skylights and fitness center. The roof of the property's on-site parking structure also boasts an impressive patio and lush landscaping that can be enjoyed by building employees through the cafeteria.
AEP's sustainability efforts intensified in 2007 when electric meters were installed to measure all usage on a monthly basis. Since then, multiple energy reduction initiatives have decreased consumption by 15% and continue to set future targets for further reductions. These initiatives also helped One Riverside Plaza earn AEP's first Energy Star label in 2010 with a score of 91, placing the property in the top 9% of buildings nationwide. AEP also established an internal group of Sustainability Advocates to engage employees in environmental initiatives. With a focus on energy efficiency, recycling and other sustainability policies, the Sustainability Advocates promote fun competitions between regions and provide recognition for sustainability achievements.
Although these initial energy conservation and engagement efforts had produced measurable results, AEP took further steps to expand its commitment. Believing that LEED EB O&M represents the most prestigious verification of an existing commercial building's sustainability and the best tool to maintain superior operating efficiency, the company decided to pursue certification. After reviewing multiple options, AEP selected CB Richard Ellis to help navigate the certification process. The project officially launched in April 2010 after a Gap Analysis conducted in March identified Certified or Silver as possible levels for certification.
The project team managed the certification process based on AEP's goal of achieving the best possible score while maintaining fiscal responsibility. Although initial analysis indicated Silver was the highest attainable level of certification for One Riverside Plaza, other credit points were investigated in an attempt to earn LEED Gold. With the help of David A. Scott, AEP's Corporate Facility Engineer, the project team tracked information for several credits originally identified as difficult to achieve. These included the purchase and recycling of furniture and electronics for the entire building. The team also was able to accurately collect paper shredding information throughout the building to help drive the ongoing consumables diversion percentage above the 50% threshold. An off-site native habitat owned and restored by AEP as well as advanced energy monitoring with sub-metering that provides the site with an energy consumption breakdown by process in 15-minute intervals further augmented the facility's score. These credits catapulted the total point count for the initial application to 63, exceeding the minimum requirement (60) for certification at the Gold level, and well above the requirements for Certification (40) and Silver (50). An analysis of points applied for by LEED-EBOM Category is provided below.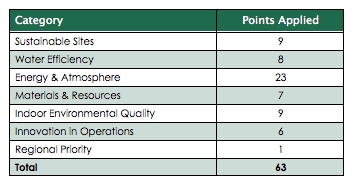 Facilities management assignments like One Riverside Plaza are uniquely positioned for the LEED certification process. While multi-tenant properties often have difficulties in collecting data from tenants, single-tenant or owner-occupied facilities can easily track purchases and waste from the entire building to qualify for multiple credits in the Materials & Resources section. These credits are not only attainable, but require no capital outlay. AEP, the facilities management team and CBRE worked together to determine the most cost-effective points available for the building to meet the original goal.
At One Riverside Plaza, AEP will continue to maintain compliance with the plans and policies created for their initial certification effort. To avoid performance lapses as personnel changes occur, ease the burden on employees and ensure uninterrupted compliance, AEP hopes to identify ways to automate the required tracking and performance measurement calculations.
For other facilities seeking LEED certification, it is crucial to obtain commitment from top levels of management prior to commencing the process. The project's level of success hinges on management's understanding of the detailed procedural requirements outlined in each policy, particularly those related to prerequisites. Without dedication at the highest level, it is difficult for the project team to accomplish the tasks necessary to earn specific credit points. The commitment level from AEP's senior leaders made identifying the appropriate resources a more manageable process for the project team at One Riverside Plaza and, ultimately, led to the property's additional credit points. Melissa Jones, the CBRE Program Manager responsible for managing AEP's project, said, "I was really impressed by the level of commitment and dedication that AEP put into this process. I am excited to see continued improvements at One Riverside Plaza, as well as the rest of AEP's facilities."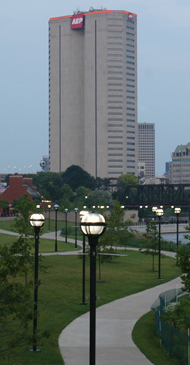 Walkway to AEP's headquarters.
Potential LEED candidates should also consider hiring a consultant to perform a Gap Analysis. Designed to evaluate actual and potential performance, a Gap Analysis offers a detailed report comparing a building's current operations in relation to LEED credits with how it should operate to reach each level of certification. This report identifies costs associated with particular points and levels of certification to offer guidelines for establishing certification-level goals and budgets. A Gap Analysis also helps highlight areas for improvement and prioritize points based on cost and time constraints. For portfolios, a Gap Analysis can assist in determining which buildings should attempt certification first. The AEP project team found the Gap Analysis report created by CBRE extremely useful prior to undergoing the certification process for establishing a budget, timeline and action plan.
For One Riverside Plaza, the path to certification is almost over. The property's LEED application was submitted on January 14, 2010 and the project team is anxiously awaiting initial review comments. For AEP, however, the journey to sustainability has just begun. The company plans to concentrate on numerous, but smaller facilities to supplement sustainability efforts over the last two years that have yielded a reduction in annual kilowatt hours of 1,823,325 and reduced 10,376 tons of CO2 per year at One Riverside Plaza. Goals for 2011 include pursuing additional Energy Star labels and LEED certifications across the company's 11-state service territory.
For more information, please contact Melissa Jones, CB Richard Ellis Program Manager, at 312.935.1052 or melissa.jones@cbre.com. Around the globe, CB Richard Ellis helps its clients break new ground on existing private-sector buildings by delivering LEED-certified facilities to the marketplace.