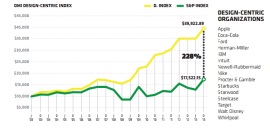 by Lisa Brinkman, Isilay Civan and Cheryl Jefferies — Imagine you are outside a large conference room. As the meeting adjourns, participants file out and you can hear them saying to each other:
"Why are we doing this?"
"Why doesn't senior leadership have to do this?"
"This will never work."
"It will never happen. If it does, I'll leave."
"Our team is different — this doesn't apply to us."
"Once this effort fails, we'll just go back to doing it the old way."
If you've ever been part of a large organizational shift or change management effort, you have undoubtedly been privy to these sorts of comments, and may have even muttered them yourself. Anger, denial and fear are all healthy responses to change. After all, these emotions stem from evolutionary and biologically endowed instincts that have helped us survive when resources were scarce and change really was a bad thing.
Our reactions to change are natural. You can't blame people for the way they feel. The real problem lies in organizations', and specifically leadership's, inability to empathize and connect with employees. Often leaders don't understand how their employees feel about change, or worse yet, why they feel that way.
Running into this sort of challenge is common when implementing a new workplace strategy, which happens to be one of the most significant and visible expressions of change an organization can undertake. Leadership may think that employees will simply be happy to get a brand new workspace. Yet when employees are told they are moving to a new or progressive workplace environment, they often remain defensive, defiant and see it as a change for the worse. Interestingly, most organizations are good at explaining why they are making a strategic shift in the workplace. Where they stumble is in addressing the emotional response to the suggested change, and in providing a change program that includes tools that can support the employee journey to a new future.

(Click on image to enlarge)
Lack of empathy in organizations is, fundamentally, a design problem. Narcissism, politics, siloed thinking and self-interest can all prevent real conversations about change, even in the most collaborative environments. The key to a successful change program is to provide employees with the tools and resources to adapt and thrive in a new situation or environment. To do this, it's important to consider and understand the emotional and cognitive needs of the user. In other words, you have to think like a product designer.
Where to begin
Change management consultants have frameworks which include a 12-step process for successful transformational change. The key to choosing a process is considering a change program that takes a user-centric approach which puts people at the center of the process. If we want employees to adopt new behaviors in a new work environment, an output of the change management process must be tools and resources that enable employees to do so.
Think of it in these terms: if you want employees to transition to a new work environment, consider them as end users or consumers. You want these users to shift their attitude about their new work environment, and adopt new attitudes and work practices. To do this, you must create tools to help with the transition. These tools are change products.
To develop successful change products, it's important to take a product design approach.
Know your audience
Knowing what users need and having empathy for the user experience is the bedrock of any successful product. This is particularly important when designing change products that will help employees transition to a new workplace environment. Intuition serves a purpose, but don't rely on what you think you know about your employees and how they feel about something as personal as their workspace.
Identify and segment your audiences
One way to understand user needs is to create a "Stakeholder Analysis Game Board" (see Figure 1). This is a simple template that identifies:
Who is affected by the change?
What are their current perceptions of and feelings about the change?
How do we want employees to feel?
What is the ideal future state for these employees (i.e., what is a win for them)?
What skills or resources do they currently lack to get them to the future state?
What tools, resources and initiatives (i.e., products) can we provide to help them win in the new environment?
The insights captured in this exercise will guide the development of the change products. This exercise will also help define a go-to-market plan for how these products should be disseminated in order to resonate with employees.
Remember, the goal of the change product is to facilitate the user journey into the future.
Examples of change products
Once you've identified your user groups and what kind of resources each group needs to support its change journey to the future state, it's time to develop the products to get them there.
The following list describes just a few example change products that organizations have developed as part of their change efforts. It is important to understand, however, that these examples represent just one component of a comprehensive change strategy.
Change products for managers
Training modules on:
Managing virtual teams
Creating a sense of community with distributed teams
Evaluating performance of remote workers
Leading a project in an open environment
A change network: Match managers with other managers and team leads in the organization who have undergone similar change.
Note: Engage and invest early with managers and team leads. They usually have the least to gain and the most to lose by advocating or supporting a workplace shift.
Change products for employees
Game or etiquette rules addressing:
New space types such as focus rooms and breakout areas
Noise and manners
Privacy and confidentiality
Meetings and conference calls
Health and safety
Approach these game rules like any product. How am I going to package them so people will use them? How can I market them so that they are fun? Be creative about how you engage with users about new workplace rules. Road shows and lunch and learns are helpful, but think about using videos or podcasts to create clever but relevant content. Use social media to connect with users in multiple ways. People want to be engaged and even provoked. If you want employees to ignore the new game rules, package them as corporate protocols.
Etiquette pilots: Try practicing the new game rules in your current work environment before you move in to your new workplace (only if appropriate). Take note of what works and what might need to be further refined before move in. Think of these as prototypes that should be iterated.
User profile stories: Past experiences of other teams or groups that have undergone similar change have strong impact. Create videos of employees sharing their own experiences and how they transitioned. These should be honest, fair, humorous or even irreverent. Just don't spin.
Workplace gallery: Create a gallery space with renderings of the new environment, including user stories and other project resources.
Brand it: Create a logo or graphic mark that gives all change materials a unique look and feel. Remember, these are products we want employees to consume, so package them well and make them cool to use.
One critical thing to remember when developing these kinds of products is to iterate throughout the process. Capture user feedback and recalibrate accordingly. The key is to adjust to the needs and attitudes of the users as they shift.
Use your employee change group
Call them what you'd like. Ambassadors. Change champions. Change advocates. The League of Justice. The Magnificent Seven. The key to gathering this group is to identify and nominate employees who have credibility among fellow colleagues. Their role or official title is not the most important criterion. Choose employees who have social, cultural and political capital with their teams.
Why is this team important? These are the individuals who will populate the "Stakeholder Analysis Game Board" and ultimately help develop the types of products mentioned above. They are also the ones who will create a goto- market strategy to disseminate the change products. Think of them as product endorsers; they will confer credibility and authenticity to the suite of change products.
Be strategic in how you use your change consultant
If you are undergoing a significant workplace change, chances are you will hire a consultant. Use your consultant to advise leadership, lead strategy sessions, manage the employee change team and prepare for outreach activities such as town halls and brown bag sessions. However, the change consultant is a subject matter expert and should operate (most of the time) behind the scenes. Don't lean on the consultant to sell the change directly to employees — it will look and sound like an infomercial.
Ditch the hyperbole
Terms such as "burning platform" (we must change or else!) and grand promises of transformation can sound dramatic, disingenuous and even desperate. These suggest a reactionary response to a change that was not anticipated. The reality is that if your business platform is burning, a new workplace configuration isn't going to save it.
Play offense instead. Visualize a better future for employees without threats. Position the change as way of achieving a business goal or how the organization is innovating to stay ahead of the game, not to catch up. Be honest and inspirational, but don't oversell.
One very useful change product is high-quality renderings, visuals of the new space or a visually compelling future illustrating a day in the life. Invest in this and treat these products like works of art. Change products should help people feel excited about the change. The cool factor goes a long way.
Communicate less
Change management programs fo cus too heavily on communicating to employees, often over email, operating under the assumption that that if people are informed of the change, they will embrace it. Leaders are often taken aback when employees say, "I didn't know this was happening," even after various emails were sent informing employees of an event or change.
Corporate email has become one of the lowest common denominators of communication. When was the last time you were inspired to change your mind or your behavior after reading a corporate email? Don't rely on email as a primary channel when working to affect change.
Instead, invest strategically in change programs that develop products that people will want use, like the ones described above. These products are meant to be interactive and initiate high levels of engagement. They work to make the change tangible and to address related emotional and logistical concerns. They also require increased time and resources to develop but are well worth the investment. Just like with any other product or service, users recognize craftsmanship and attention and consequently desire it more.
Employees want a pleasant workplace experience. Design change products for your organization to deliver on that promise.
REFERENCE
1. www.dmi.org/?DesignValue
Lisa Brinkman is a regional director for HOK's on-site services group located in New York, New York, USA. She is responsible for oversight of client engagements that support real estate strategic planning and data management that informs those strategies.
Isilay Civan, MSc., Ph.D.s, LEED AP O+M, GPP, is a research and strategic innovation specialist for HOK's consulting group located in Chicago, Illinois, USA. She is responsible for strategic consulting, real estate development and repositioning strategies, facility management and life cycle and sustainability consulting.
Cheryl Jefferies is a senior data management specialist for HOK's on-site services group, located in Ottawa, Ontario, Canada. She is responsible for delivering space management services, with a particular emphasis on technology assessments, strategy and data management.