The Challenge
Fairplex, located approximately 30 miles east of downtown Los Angeles, has been the home of the Los Angeles County Fair since 1922. With a footprint of nearly 500 acres, the venue includes the Sheraton Fairplex Hotel and Conference Center, The Millard Sheets Art Center, a KOA RV park, a grandstand and infield with seating for 10,000 people, the Finish Line Sports Grill, 12 acres of fairgrounds and parking for 30,000 vehicles. In addition to the month-long Los Angeles County Fair, held annually in September, Fairplex is the site for approximately 500 entertainment, sport and showcase events every year.
  As a year-round operation, Fairplex also features The Learning Centers at Fairplex, which offer vocational training programs for junior high and high school students, and the Child Development Center, dedicated to preschool childcare and education. Fairplex is owned by the non-governmental and non-profit Los Angeles County Fair Association and is managed by a Board of Directors appointed by the Association.
An average 1.5 million visitors attend the L.A. County Fair each year. Accordingly, the venue has 300 to 400 year-round employees, but the number skyrockets to close to 2,000 during the Fair. Jim DeMonaco, director of facilities, joined Fairplex in 2012. One of his first goals was to renovate the public restrooms—which had seen their last major renovation more than 50 years ago.
The Solution
"My first observation was that our existing restrooms were not capable of adequately handling the number of visitors we get during the County Fair," DeMonaco said. "We had trough urinals with water constantly running. We were using paper towels. We had individual sinks that had gaps between them so that water splashed on the floors when people washed their hands, as well as conventional hot and cold faucets. We wanted to create environmentally efficient restrooms that would please our visitors, but also save on water and electricity. An additional goal was to reduce the need for janitorial services and also be as hands-free as possible for the guests."
With these objectives in mind, DeMonaco launched an extensive redesign program for the Fairplex restrooms. Among the new installations were waterless urinals that would save the facility more than 10 million gallons of water a year; one-piece flooring with a central floor drain for quick clean-up; motion-sensor lighting that switches off when the restroom is not in use; multiple sinks formed of a single piece of counter material; hands-free faucets; high-pressure toilets; and World Dryer Airforce hand dryers.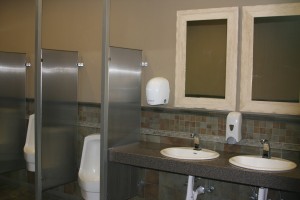 DeMonaco discussed his criteria in selecting a hand dryer model. "My first priority was creating a hands-free operation. In public restrooms the paper towels tend to fill up the trash very quickly, and people tend to throw them on the floor. The immediate impression to guests is that the restroom is not clean. So one of my objectives was to do away with the paper towels and go with hand dryers. Part of this decision was also the money we would save because we wouldn't have to spend $100,000 a year for paper towels."
DeMonaco took a methodical approach to find the hand dryer that would fit perfectly in the renovated restrooms. "I was concerned about drying time, so the hand dryer of choice had to be in the top 10 percent of hand drying speed," he said. "I was also concerned about noise and wanted the dryers to be relatively quiet. I was looking for something that was durable, that would stand up to the constant use, but also had an attractive design. Additionally, the dryer unit needed to be small so that I could put multiple dryers in a convenient place. Our plan was to mount them above the sinks so guests didn't have to move from the sink to use them."
Another key factor in choosing a hand dryer was the heating element. DeMonaco wanted a hand dryer that would work with or without a heating element to save electricity and hand drying time.
DeMonaco's search included talking with several hand dryer dealers and manufacturers and then conducting product comparisons.  He found that World Dryer could meet all the objectives. Although World Dryer offers a large selection of hand dryers, DeMonaco chose the Airforce, a compact model that provides a 12-second drying time, more than twice as fast as comparable models, and with a lower sound level. Airforce uses only 48 percent of the energy required to operate traditional dryers. With regard to hygiene, Airforce is a hands-free dryer and incorporates SteriTouch® antimicrobial technology, which inhibits the growth of bacteria, mold, and fungus. Additionally, Airforce is certified by GreenSpec® and the Green Restaurant Association®, and it can help facility managers earn LEED credits.
"World Dryer's Airforce beat the competition in all of my criteria," DeMonaco noted. "It was cost-effective. It didn't require the additional heat strip. It's durable and has a small footprint and performs really well. It dries quickly." To date, Fairplex has purchased 77 Airforce hand dryers and has installed them in a dozen restrooms, primarily those located in the fairgrounds area.
The Results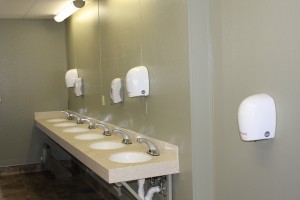 "Once we chose World Dryer's Airforce, I was happy to find that there was a good, strong team behind it at World Dryer that was willing to work with me, see what we were working to accomplish and understand how to achieve our objectives," DeMonaco said. "World Dryer took a proactive approach to ensure that these units met our expectations."
In terms of cost savings and efficiency, Fairplex has been able to cut its paper towel budget in half, but there's much more. "Labor is another important savings," said DeMonaco. "We're not cleaning the restrooms as often or as long. We're not emptying trash as much, so that reduces the entire waste disposal chain. I went from one attendant per restroom to one attendant per two restrooms. Obviously, the more important and tangible benefit was that our guest satisfaction ratios rose overall for the Fair experience. I can't attribute all of it to the restrooms, but I think that's a large part of it."
Looking ahead, DeMonaco plans to continue the restroom renovations at Fairplex where appropriate. "We've demonstrated that upgrading the restrooms has been a success on many levels and our plan is to upgrade more of our restrooms in the future. It is safe to say, World Dryer's products will definitely be part of those renovations."
About World Dryer Corporation
World Dryer, the global leading manufacturer of hand dryers for over 60 years, is the only manufacturer that offers a full portfolio of fast, energy efficient, competitively priced hand dryers designed to fit the individual needs of any business or facility. For more information, visit www.worlddryer.com.