by Jay Pittenger and Darrell Smith — Worldwide, buildings account for about 40 percent of total energy consumption and contribute a corresponding percentage to overall carbon emissions. Buildings used by businesses and public service organizations make up a large part of this footprint, and in the U.S. alone, businesses spend about $100 billion on energy for their offices every year.
There is potential for substantial cost savings and conservation in the built environment through the development and deployment of intelligent solutions in building portfolios. For the U.S., estimates predict that smarter buildings could save $20-25 billion in annual energy costs. This opportunity is largely untapped, as many building operators are not yet aware of how data-driven optimizations can reduce energy consumption. Buildings may be equipped with hundreds of sensors and controls, but companies are leaving money on the table if they do not use this data more holistically to optimize their infrastructure. By applying analytics to make buildings smart, companies can save billions and significantly reduce environmental impact.
Microsoft, in collaboration with Accenture and the Lawrence Berkeley National Laboratory, recently authored a whitepaper that examines how building owners, operators and occupants can achieve significant energy and cost savings through the use of smart-building solutions. The whitepaper is based on insights from a detailed case study of a smart-building pilot program conducted by the Microsoft Real Estate and Facilities (RE&F) team at its corporate headquarters. This article summarizes the initiative and resulting conclusions.
Microsoft's RE&F oversees the company's 32-million-sq.-ft. (2.97-millionsq.- m.) global real estate portfolio that houses more than 127,000 occupants. Approximately 14.9 million square feet (1.4 million square meters) of Microsoft's portfolio is concentrated around its corporate headquarters campus in Redmond, Wash. Energy conservation and portfolio sustainability are significant areas of focus for Microsoft RE&F, which prompted its smart-building pilot program.
Microsoft's Sustainability
Objectives in the Built Environment Data centers, employee travel and buildings are the top three contributors to Microsoft's overall carbon footprint, with buildings accounting for nearly 40 percent. As part of its sustainability efforts, the company is addressing the first two by building energy-efficient data centers and promoting the use of remote collaboration technology. To address the environmental impact of its building portfolio, Microsoft is investing in the deployment of new technologies to improve performance. Beyond reducing its own emission footprint and operational expenses, Microsoft also recognizes its role in enabling the IT industry to develop smart-building solutions. The underlying approach for the company is based on its fundamental belief that IT can help improve efficiency in all areas of energy and resource use.
As part of this, the company's corporate headquarters was used as a living lab to pilot several smart-building solutions. Microsoft worked closely with vendors to test their solutions in a reallife setting, while applying a number of its own products as part of the overall architecture. One key goal was to allow vendors and Microsoft to improve their technologies for the broader market.
The Pilot
Microsoft RE&F began its smart-building program in 2009 with an initial analysis on how the company and its partners could use technology to significantly cut energy use in the built environment. In the first half of 2011, Microsoft rolled out smart-building solutions from three vendors at its corporate headquarters. The size of its main campus gives ample opportunity for testing multiple solutions at scale. The campus consists of:
118 buildings with 14.9 million square feet (1.4 million square meters) of office space
30,000 pieces of mechanical equipment
Seven major building asset management systems
Average daily consumption of two million kWh of energy, producing about 280,000 metric tons of carbon emissions annually
In its initial pilot phase, Microsoft's smart-building project focused on 13 buildings, representing 2.6 million square feet (241,548 square meters) of space — about the same floor area as the Empire State Building in New York. The age of the buildings varies from more than 20 years to relatively new. For historic reasons, a variety of building management systems are in place, resulting in building engineers dealing with a multitude of disparate systems.
Introducing a smart-building solution that provides an analytical layer above existing building management systems creates a consolidated view of granular energy and operational data across Microsoft's building portfolio. This allows buildings to be managed holistically through a unified interface instead of many disjointed systems. This approach does not replace existing building management systems, but aggregates and complements them with an analytical layer.
Program Components and Impacts
In its initial phase, Microsoft's smartbuilding program focuses on three main areas:
Fault detection and diagnosis
Alarm management
Energy management
At the time the whitepaper was published, the three solutions being piloted had introduced new capabilities and produced a range of promising results, but their evaluation was still in progress. Microsoft intends to publish more detailed data in the future. Nevertheless, the preliminary findings already provide useful insights for anyone considering the implementation of a smart-building solution.
It's worth noting that Microsoft's corporate headquarters benefits from very low utility rates and carbon intensity thanks to an abundant supply of hydropower from the nearby Columbia River. Savings in cost and carbon emissions achievable by businesses in other geographic regions may be several multiples higher than those on Microsoft's main campus.
1. Fault Detection and Diagnosis
One of the biggest single impacts the program has facilitated is the ability to identify building faults and inefficiencies in real-time by analyzing the data streams extracted from building systems. Most importantly, the software is able to quantify wasted energy from each identified fault in terms of dollars per year.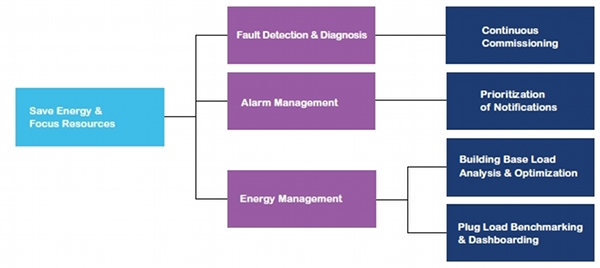 Previously, issues were typically found through periodic spot checks, an approach known as retro-commissioning, but with 30,000 pieces of equipment on campus this is a major effort, even if limited to large HVAC systems. Historically, engineers spot-checked about one-fifth of the campus each year. On average, a building would thus operate for five years before it got inspected and tuned again, despite degrading equipment and potential changes in use and occupancy.
Through this approach, Microsoft typically achieved energy savings of about four million kWh each year, cutting costs by about $250,000. Now, the introduction of automated fault detection and diagnosis provides an entirely new tool for Microsoft's building engineers, enabling them to identify and prioritize faults as they occur.
The smart-building solution provides engineers with a table where equipment faults are prioritized and the cost of wasted energy is automatically estimated. Engineers can quickly decide which faults to address in which order and can predict whether the savings justify the expense for labor and spare parts.
Fault detection also identifies issues a conventional building management system would miss. One example encountered at Microsoft was an air handler's chilled-water valve with a faulty control code issue — the valve was always 20 percent open, wasting thousands of dollars in energy. This issue was not easily visible before, but the analytics software was able to detect it immediately.
As its smart-building program evolves, Microsoft intends to quantify the exact benefits of this continuous commissioning approach. It is already evident that engineers save significant time on inspections and can adopt a highly focused approach to maintaining equipment. The software also allows them to detect smaller faults that could have been missed in traditional inspections.
Microsoft expects that interventions equivalent to a full five-year retro-commissioning cycle for the entire campus can now be accomplished in just one year. Annual energy cost savings from continuous commissioning enabled by automated fault detection alone may thus exceed $1,000,000.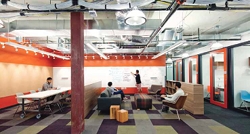 2. Alarm Management
Microsoft's existing building management systems generate hundreds of alarms on a typical day, flooding engineers' inboxes with automated notifications. Alarms range from major issues, such as a power outage, to insignificant messages, such as a self-test notification. A key challenge is recognizing the importance of a given alarm, as well as correlations among messages from related events. Interpreting these requires deep knowledge of the building infrastructure and occupancy. Errors can lead to issues being missed and inadequate prioritization of interventions.
3. Energy Management
The third strand in Microsoft's smartbuilding rollout affects its ability to manage energy consumption. With the help of a smart-building solution, engineers can optimize building base load and the power consumed by the major building systems in real time. Supported by analytics, they can tune set points and schedules, isolate wasteful equipment and address other opportunities by getting a much better understanding of energy use and trends across the portfolio. Microsoft is also planning to publicize energy consumption internally to support occupant efforts in reducing plug load.
Microsoft's Smart-Building Architecture: A Technical Overview
The pilot program architecture can be broken down as follows: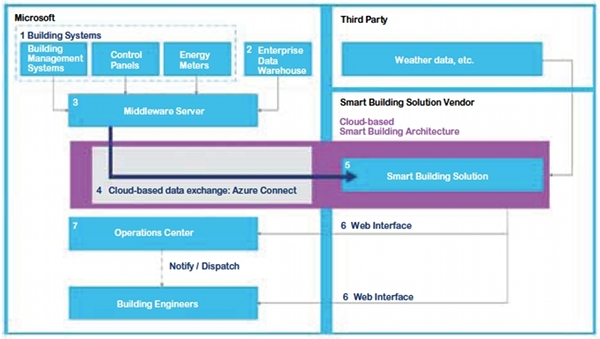 1. Equipment level data is collected and either sent directly from the control panel or from the BMS servers to a middleware server. For some buildings, this is done over an open protocol (BACnet). For most buildings, a protocol conversion was necessary, with additional scripting to extract the data. Energy meters provide sub-metered electricity consumption data that complements the utility data.
2. Microsoft's internal enterprise data warehouse provides a feed of contextual information, such as building type and headcount, to the middleware server.
3. The middleware server acts as an aggregator for all on-site data. It also houses a Windows Azure Connect endpoint to transmit the data to the relevant vendor application, hosted off site.
4. The Windows Azure Connect service provides secure data transfer over the cloud. It is designed for applications that rely on a hybrid environment of both cloud-based and on-premise servers.
5. The vendor's application collects data from Microsoft and aggregates it with third-party weather data and building- level electricity consumption data provided by the utility. Analytics are run by the vendors' software, applying the rules engine and algorithms against the collected data from multiple sources.
6. The output is shared with Microsoft's building engineers via an interactive graphical interface accessible via the web. Single sign-on through Active Directory Federation Services simplifies access to the externally hosted solutions. Plans include mobile devices as endpoints.
7. In the newly established operations center, a team reviews the faults and alarms that have been identified and notifies engineers accordingly. The center is designed to support locations beyond Microsoft's main campus.
How Can Others Replicate This?
Microsoft's pilot program demonstrates how corporate real estate organizations can collaborate successfully with IT, putting smart-building technology to use in cutting costs and securing environmental benefits. Its experience has helped define a set of key design principles that can be used in any similar rollout.
Identify, collect and aggregate relevant data. Set up automated aggregation of building, weather, utility and organizational data from building systems and other sources to feed into the smart-building solution. Cloud computing combined with on-site building management technology can provide a powerful platform to gather, store, exchange and process diverse datasets in a secure and scalable way.
Employ industry-leading analytics. Identify and prioritize interventions to maximize savings through the use of an analytics engine consisting of rules and algorithms.
Present results in a consumable and actionable form. Provide engineers with better real-time information and access to data, while arming them with a strong toolset for deeper analysis.
Centralize monitoring operations. Monitor building conditions across a campus or multi-site portfolio and communicate directly with building engineers through a centralized operations center.
Engage the organization. Make energy use more visible, encouraging employees and business leaders to save energy and reduce overall demand.
Avoid disruptive change. Supplement existing building management systems instead of replacing them, allowing engineers to adopt new tools while still working directly with more familiar systems.
Aggregated data and powerful analytics that add "intelligence" to existing building infrastructure have the potential to transform the way companies manage energy across their real estate portfolio. In particular, building engineers can be empowered to take a more targeted, data-driven approach to their work while automation improves their productivity. This delivers substantial cost savings, while helping firms achieve carbon reduction targets with relatively low capital investments.
Jay Pittenger is the
Senior Director of
Microsoft RE&F for the
Puget Sound Region.
He is responsible for all
aspects of corporate real
estate and employee services
for Microsoft's headquarters campus.
2012 the leader 15 january / FeBruary
Darrell Smith is the
Operations and Energy
Manager for Microsoft
RE&F. He oversees the
facilities management,
energy strategy and
smart-building technology
for Microsoft's headquarters campus.