The General Services Administration (GSA) purchases bulk power for operating government owned buildings. Energy costs are unpredictable, volatile, and difficult to plan and budget. Through innovative wind power procurement, GSA's Greater Southwest Region (Region) is using the deregulated Texas energy market to reduce Federal expenditures for fuel and increase the use of renewable wind energy.
GSA conducted innovative competitive renewable energy wind power procurement for 103 Federal buildings located in deregulated parts of Texas (statewide). This is the first time a Federal agency purchased large scale wind generated power for widely distributed Federal facilities. This was not a "one building" public relations ploy, but a serious attempt to achieve policy goals, and to save taxpayer money, the environment and energy. These buildings have a total annual consumption of approximately 137 million kWhs (kilowatt hours) or around $12 to $15 million at prices established three years ago.
The GSA procurement package required power companies to provide at least 50 percent wind power, with the opportunity to offer more renewable energy if able to do so. Pricing is obtained on three-year, five-year, and ten-year terms. The vendors had to demonstrate technical qualifications, reliability, a hedging plan (to identify and measure risk), and show there were no adverse price impacts associated with the renewable resource (power companies often mark-up prices of "green fuels" so they are priced the same as, or higher than, fossil fuels).
GSA used a reverse auction approach, which in itself is innovative (with the reverse approach, bids decrease as suppliers compete, with the lowest bidder winning the award). In an earlier reverse auction for power, GSA saved almost $10 million. GSA became even more inventive by developing the ability to host their own reverse auctions – the first Federal agency to do so; saving well over $0.5 million in reverse auction fees in a single auction.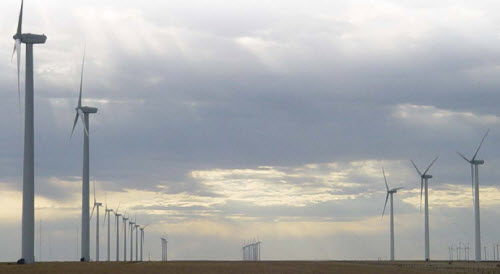 Wind turbines on open rural land
The Region widely publicized its wind energy procurement reverse auction and accepted proposals through June 16, 2008. On June 18, 2008, the Region pre-tested the reverse auction software tool. The reverse auction was held on June 30, 2008. The Region was very satisfied with the fact that the goals and objectives of the reverse auction were exceeded.
The benefits of this renewable wind energy procurement are many, including the following:
Use of renewable energy acts as a complete or partial hedge against volatile "fossil fuel" generated energy prices.
Generation costs for wind energy is competitive with fossil fuels.
Unlike fossil fuels, wind energy costs the same from year to year and is renewable.
The action meets statutory requirements to use more "clean" renewable energy.
Promotes energy independence and security.
Provides jobs and benefits to the local economy.
Greater accuracy in planning utility budgets.
Contributes to improvement of air quality and the meeting of environmental goals including "GHG" (green house gas) emissions reduction.
Establishes GSA as a national leader in effective, positive and business like environmental action.
Creates a new transaction model for government purchases of renewable power, which may be replicated in other competitive markets.
Contact:
Jeff Nedderman
Program Support Officer
Public Buildings Service
Greater Southwest Region
U.S. General Services Administration
jeff.nedderman@gsa.gov