by Julie Pithers, longtime DIRTTbag — Taos, New Mexico is a spectacular tourist destination. It's also a small working town in a large, sparsely populated state, making construction projects challenging and costly. That's why the University of New Mexico had some buyers' remorse after purchasing the abandoned convention center downtown… for just one dollar. Feasibly turning it into a much needed health sciences campus required a lot of imagination.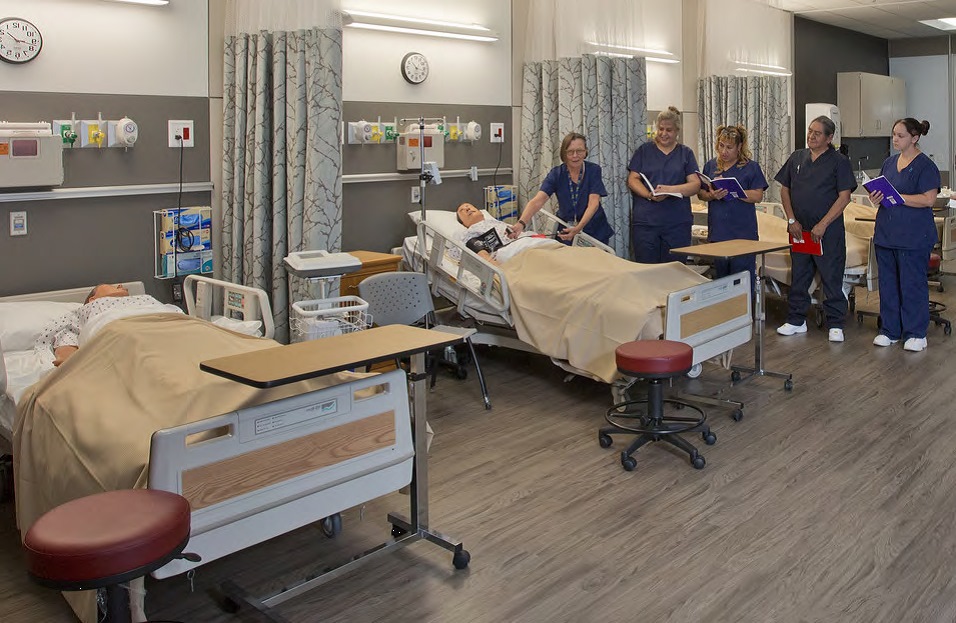 "The county's only 30,000 people," said Jim Pollard, the university's former construction manager. "I think the town itself technically may be 6,000 at this moment. We don't have any contractors in the immediate area who can afford to issue performance bonds for a project of this size."
Nearly all skilled trades would have to come from Albuquerque and stay during construction. "It's good for the town's economy for lodging and food," said Pollard. "But it costs us in the end."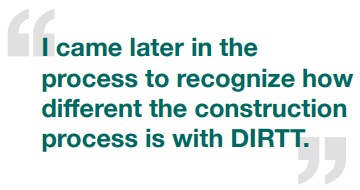 Not until the architect, Doug Patterson from Living Design, mentioned the idea of using integrated prefab construction for the interiors did the idea start to show promise. Currently there is only one provider of this method of specialty construction and that is DIRTT (Doing It Right This Time).
"I came later in the process to recognize how different the construction process is with DIRTT," said Pollard. "Maybe I was sheltered and didn't see enough, but this was really very revolutionary. Just build a shell, furnish a fixed floor at a fixed height and provide a ceiling, and rough-in the utilities by distributing power and data to various distribution points, rather than having to feed them into a wall and get them wired? This was unheard of. This is not a normal construction process."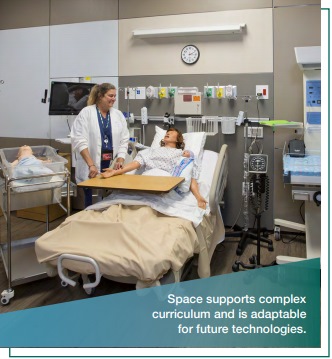 To educate himself on the idea, Jim Pollard, who also has a manufacturing background, went to the DIRTT production facilities in Phoenix. "The factory itself was a marvel to me," said Pollard. "I saw the software there. And the first thing that struck me was not just how easy it would be to design, it was going to be easier to check. Easier to specify what we needed and easier to go through a submittal."
The software he saw is called ICE®. It was developed in-house at DIRTT as a client-facing,
front to back platform. It turns the DIRTT building elements into user-generated configurations. Every component has engrained rules allowing Pollard and his design team to create whatever spaces they want. All without expertise in the DIRTT system. ICE simultaneously generates instant pricing, shop drawings and 3D fly-throughs where modifications can be made in real-time. "It was almost as if we were inside a virtual reality system. You could go in and look at each room and look at each fixture, look at the height, look at the colour, look if the lines match up and change it if it didn't."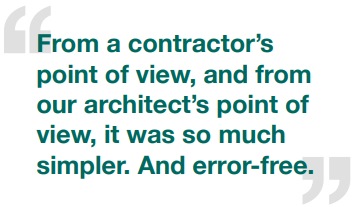 Due to the software's delivery of the design directly to the DIRTT factory floor, production lead times range from 2-3 weeks. This allowed the team to continue designing and sourcing equipment right up to the last minute. "We were probably making corrections up to the second week before we released the order," said Pollard. "Because it's an existing building, we didn't have all our as-built dimensions and we had a few things that just needed to change. From a contractor's point of view, and from our architect's point of view, it was so much simpler. And error-free."
Still, the method of construction was a mystery to the team. The prefab schedule had walls, fixtures and equipment coming in after the floor was finished. The space looked strangely empty with the move-in date looming. "When we pulled the trigger with DIRTT, literally two and a half weeks later two semis pulled up one morning. By noon the following day they were packing up all of the crates and all but one person left. The 15,000 square feet was the way you see it right now. Just incredible."
Pollard feels this revolutionizes the process. It took six months from the day they started to strip the building, get everything in and commissioned all of the equipment. "We could not have done that within that time without DIRTT," confirms Pollard. "I believe we cut two months out of the construction process."
The construction experience was a shock to the other trades on the project too. The simplification of their work and the reorganization of when things needed to happen was  revelatory to them. "For a couple of months the expression passed from the superintendent  level down to the average apprentice was, 'You're going to do what?!'"
The other trades couldn't believe they were really done with their portion of work when the site
seemed so bare. Ninety percent of it was being done at the factory, so they were scheduled to be off the job-site months earlier than normal. "But that didn't stop their curiosity," said Pollard. "All the electricians and all the HVAC people were hanging around wanting to see how all this works. In the end they all became great supporters."
It was because of those labor savings Pollard says he was able to hit his budget. "We ended up with a finish we could not have done, or afforded, had we gone with the traditional frame and finish operation."
Taos is also fiercely proud of its culture and history. Anyone considering renovating, let alone building, faces a powerful community of protectionists. Jim Pollard happens to be on the planning and zoning commission in Taos. "We are dealing with all these heritage buildings and a community that really treasures our architectural history. But that doesn't help us with what's inside the building." The old convention center, while not authentic adobe construction, fit the local vernacular and any changes to its exterior were warned against. "I still love when somebody comes into this building for the very first time. They will say, 'what a wonderful job you did in keeping that look of this building. You know, you've made it good for another 50 or 60 years.' And then they get inside the door and they just are agog when they see such a high-performance nursing school. They forget the shell and forget that they're in the centre of Taos."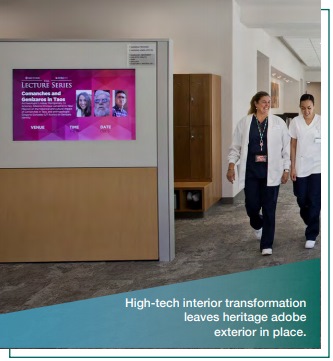 That interior is integrated with all the technology and equipment needed to get national accreditation for graduates. Even though the current cohort only has 16 students, these up-and-coming nurses are vital to the small community. Melissa Wohltman is the Nursing Program Director. She came to Taos for a vacation and fell in love with the area. She was thrilled to find they needed her expertise to help run the nursing program. She wasn't quite as thrilled when she saw the original classrooms tucked in a low-tech basement. "Our faculty has gone from a situation where our offices had to double as classrooms to a space that feels like a hospital," Wohltman explained. "Nursing is a really complicated profession these days. The learning environment is highly technical and the stakes are very high. This gives our students
real-world situations."
An added bonus in using integrated prefab construction is the classrooms are able to respond
to future technologies without having to bring in trades to renovate. The walls containing their
plumbing, technology and equipment are all accessible by the facilities team. "If we had to do
this with fixed walls, it would have never happened," said Jim Pollard. "It would end up being stuck with an obsolete use in 10 years. With this system, we can adjust to whatever the needs of the school are going to be, or the next owner."
See the project and hear the stories HERE. 
This article was written by Julie Pithers, longtime DIRTTbag. She has been with the company since 2005 when it first opened for business and played several roles in it. The video case studies with DIRTT clients are a favorite part of her job.
DIRTT stands for Doing It Right This Time. The company provides custom interior prefab spaces 
by combining a powerful and interactive videogame experience for clients to design their own environments along with components open to infinite configurations. Their clients range from large hospitals, to small businesses to university campuses to full office towers. info@dirtt.net