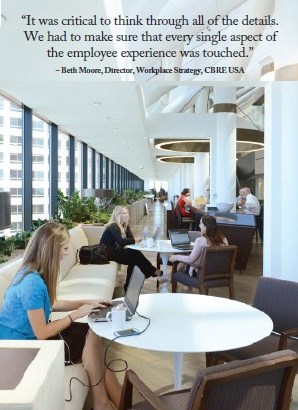 by PETER ANDREW, MCR, B . Arch, M. Planning & Design — This article captures the key themes from a panel session by the same name at the March 2014 CoreNet Global Summit in Singapore.
As an industry we tend to look at our role in the corporate world from within a real estate and built environment paradigm. Attempts to connect the real estate function with human resources, technology, operations and other corporate support functions have typically been from the perspective of how to conceive and implement change in the physical work place.
To leverage the true value of the partnership between the various enterprise support functions, focus needs to shift from the work place to the work experience. It is through this shift that the support functions can be enablers of enterprise transformation and business improvement.
What Do We Mean by "the Work Experience"?
The work experience is the holistic employee experience of work within a corporation. It is about proactive understanding and intervention by the employer to shape positive work experiences inside and outside the corporate workplace. The work experience encompasses a wide breadth of issues, including streamlined processes, employee health and wellbeing, teams and culture, flexible work hours, diverse work places, and ensuring that the infrastructure and technology that support work activities are appropriate, seamless and always available.
In Western economies there has been a shift from materialism to experientialism. In 1970, political scientist Ron Inglehart observed that 80 percent of people in a study were materialistic. Recently, he repeated the study and determined that the number had declined to 50 percent. In 2003, psychologist Tom Gilovich proved that experiences made people happier than material goods. Futurist James Wallman notes that in social media people now boast more about what they do than what they own. Experience is the new status. The 'retail experience' is already with us; the 'work experience' is following close behind.
From a technology perspective the key change shaping the work experience is the mobilization of organizational operational processes. The most visible aspect of this change is the ability to work anywhere, anytime. This change is driving organizational restructure, role and process change, which equally is creating a profound impact on the work experience.
The work experience is built into the fundamental culture and employment brand of a number of leading organizations. Provision of free and healthy food, recreational facilities, concierge support and playful work environments are often seen as signature elements. These are the high-profile examples of work experience. As much value can be achieved by simpler and more basic interventions in the employee work experience. This might be as simple as making sure there are working whiteboard markers in meeting rooms. It is not necessarily about cash investment as much as time investment to create positive experiences for people. At work people want to innovate, build on ideas, solve problems and create solutions. They expect everything else that supports them to simply work so they can get personal satisfaction from what really matters to them.
The biggest 'what's next' in the work experience is a focus on wellness. Delos Living is an international organization that has founded the WELL Building Standard®, launched by former U.S. President Bill Clinton in 2012. The foundation brings together medical, building, sustainability and holistic wellness experts to set a new standard for environments that improve occupant heath. CBRE's new Los Angeles office, completed in 2013, is the world's first WELL-certified workplace.
Every organization already has a work experience that may be good, bad or indifferent. In most cases that work experience is the combination of a number of disconnected initiatives and policies and unintended consequences. The intention of taking a proactive approach is to align these disparate parts in order to:
Build a strong culture and sense of belonging
Motivate people by demonstrating that they are valued
Enhance health and wellbeing
Make sure that enterprise infrastructure is fit for purpose and does what it is supposed to do
Ensure business processes are lean and fit for purpose
The ultimate aim is to drive improved personal and business performance and to attract, retain and support talented people. Delivering a good work experience can also be an important part of the reward and remuneration package and can potentially moderate wage pressure.
When corporate leaders make a conscious decision to enhance the work experience they are, in effect, becoming facilitators of a curated experience for their colleagues. Solutions are best created by a wide cross section of people from lines of core business and across the support functions.
The key steps to create or support the work experience are:
Create an aspiration for the work experience
Be clear about the areas of focus and why it is worth the investment of time and resources.
Map all of the "touch points" between the individual and the organization
What are all the different ways the organization impacts the employee experience through technology, space, amenities, behavior and culture? What is the current quality of the work experience today? What could it be and what should it be in the future?
Consider the quality of the experience
First impressions, delight, the unexpected, daring to be different and lasting impressions can be at the essence of positive experiences.
Create an implementation plan
Define the gap between the current situation and the desired future situation — for every part of the organization that can impact a touch point with employees. Identify what needs to change to achieve the desired outcome. Once all factors are captured each enabling party can develop next steps and an investment plan to implement required solutions. Solutions may be implemented incrementally, tested in pilots, or applied at scale in conjunction with other major business transformations.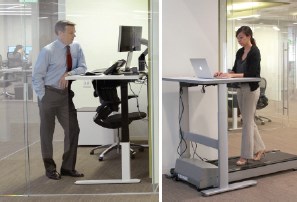 A major global bank recently initiated a program to develop an integrated work experience — driven initially by a push from the Real Estate function. The one-day kick-off workshop included both core business unit and infrastructure leaders in the organization. At the close of the day a question was put to the workshop group: "Should Human Resources, Real Estate or Technology lead this initiative?" The responses were very interesting. The least active participant in the workshop had been Human Resources, yet they were identified by the group as the best leader. Technology came a close second and Real Estate a distant third.
Subsequent discussions came to a quite different conclusion: The wrong question had been asked. The right leader was actually the business. Until the business was put at the center of the discussion the program would never be successful. All the other business functions are the enablers, not the beneficiaries, of any transformation. This led to a rethink of the Key Performance Indicators (KPIs) of each of those separate functions to create direct alignment with the ultimate outcomes, not those of their silos.
While the benefits are powerful it is nonetheless difficult to create momentum for change.
Business performance metrics should be a key driver to align various parts of an organization to create an integrated enterprise approach to work experience. Unfortunately, corporations capture too often what is easy to measure (but not important), rather than what is hard to capture (but most important). Finance metrics are often much too narrow in focus to capture people benefits. Organizations are often very poor at capturing sufficient information on attrition rates and the reasons why people choose to leave their employment. This represents a massive under-emphasis on the potential benefits and underwhelming support for proactive action.
While mobilization of operations and processes can enhance the work experience, the consequences of these changes on business structure and operations can be crippling to change. New, efficient structures and processes emerging from the technological transformation can often threaten jobs and change the playing field, which can lead to 'turf wars' and as a consequence, impact self-esteem and create silos, rather than a collective focus. Corporate survival can overwhelm any focus on creating an enhanced work experience.
People and Talent adviser Su-Yen Wong notes that a key predictor of transformation success is the degree to which corporations have a talent development approach that encourages mobility across functions and departments. With a more holistic business perspec tive these individuals are more prepared to focus on collective benefit, rather than the vested interest in their area of responsibility.
With so many competing corporate initiatives at play it often takes a major event to create a reason to bring all parties together. Be it a shock in market performance, a new CEO, or even a corporate relocation — any of these can be harnessed and used as a trigger to develop a work experience initiative.
A structured and holistic corporate focus that maps and defines desired work experience can clarify the true value of the physical work place to organizations and their people. The following are some aspects of the work experience that are fundamentally rooted in the substance of physical space and technology:
Facilitate human experiences — social and work-focused. A way of shaping culture
Expression of brand and the symbols of community — of what we stand for — of what kind of community we want to be a part of
Access technology and building infrastructure that you can't get on a mobile device
As corporations seek to leverage every competitive advantage, expect to see increased focus on the work experience in the future. For real estate professionals — be aware that you are an enabler, not a driver of the change; but you do have an important role as a catalyst for that change.
About the Author
Peter Andrew, MCR, B. Arch, M. Planning & Design (Facilities) is a workplace strategist for CBRE with 25 years' experience. His ambition is to transform work and workplace in Asia. Mr. Andrew leads CBRE's Workplace Strategy line of business in six countries across Asia Pacific, and has created global solutions for major corporations and delivered workplace strategies in 20 countries — mostly in Asia Pacific.