by Kelly Barlow and Rebecca Gaynor — Originally published in September/October 2017 issue of FMJ
What is it about workplace change that makes people so crazy? We've all been through changes in our personal lives — from finally letting go of your college sofa to outgrowing your first home to downsizing when the kids leave the nest. These emotional moves are sprinkled throughout life, but we can see the opportunity each change presents — more comfort and style, more space for kids and pets, or less space to upkeep while traveling the world.
When it comes to workplace change, however, people tend to forget this is something we've all done before. Suddenly, when faced with an office change, people can become attached to every item in their space, they may worry about germs and safety, all their files become sacred, and they can revert to an "it's all about me" mentality.
Understanding why people resist change and how to overcome it can create a smoother, more enjoyable transition for the office — and for any vendors involved in the change. At the end of the day, workplace change is about people, so it's critical to incorporate the human element into conversations and decisions throughout a workplace change initiative.
Why Make a Change?
When people spend eight or more hours a day in the office, they become attached to "their space." Space is often used as a status symbol and reflects a person's personality through pictures, lamps, plants, collectables, trinkets and certificates or diplomas. The idea of reducing or removing space is jarring on a personal level. These changes can create feelings of loss of control, uncertainty about the job and fear of the unknown.
Why initiate an upheaval when there can be so much resistance? Workplace change is driven by many factors, including:
Technology innovation
Changes in customer demands that have impacted business operations
Employee desires for flexibility and work-life balance
Aging infrastructure
Evolving thinking related to how space is designed for optimal performance
There are also regulatory considerations. For example, federal mandates have been set for agencies to reduce their physical footprint. This is driving the federal government to drastically shift the way think about space usage and allocation. Private sector organizations are also leveraging workplace change to save on rent costs, and also to identify as environmentally conscious.
Though workplace change can have many benefits, it has to be managed transparently to lessen the impact on employees. Feelings of anxiety are heightened when communication is poor and employees feel that they do not have any opportunities for input or feedback during workplace change.
Too often changes are announced and implemented with poor communication about the benefits for employees or without expressing the return on investment for the organization and its stakeholders.
Overcoming Obstacles to Change
People are innately resistant to change, and that is amplified when the change is imposed — whether perceived or actual — upon them. When leaders decide to take on a workplace change, it is imperative they understand what drives and motivates their people.
People are generally motivated by data, emotions, financials, or a combination of all three. When undertaking a workplace change, leadership must create a case for change that speaks to each of these factors.
When talking to employees driven by data, speak to the return on investment, including the employee's cost savings by moving to more flexible work styles (e.g. telework, alternative work schedules), as well as savings on things like dry cleaning and fuel costs. Also highlight the benefit to employees when the company saves money on workspace.
For those driven by emotion, the case for change must speak to advantages to people — whether the employees themselves or their customers. Embrace a cause like environmental consciousness, or tell a story about how the organization's culture will improve because of the workplace change.
Finally, those who are focused on the monetary aspect will want to know that the workplace change, which generally comes with a high price tag, will benefit the organization financially over the long term by retaining and attracting talent and customers or by providing long-term overhead cost savings.
Additionally, it is important for leaders to understand how likely employees are to adopt change. As economist Everett Rogers taught, people adopt change along a natural bell curve. If you're helping with a workplace change, it is critical to understand the signs and motivations of people and their willingness to adopt change. Be aware of the personality traits of people you'll encounter:
Natural innovators—will identify and/or be first to move on ideas for change
Early majority—willing to quickly adopt ideas of the innovators and will pull the late majority along with them
Laggards—staunch resistors who will fight you along the way, put up roadblocks, and will never fully get on board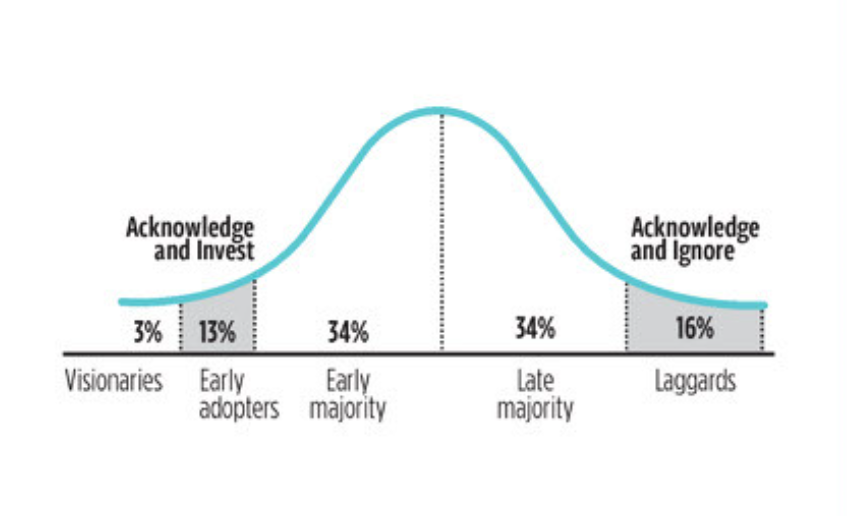 Rather than waste time and resources on people who will never come along, it is best to identify and acknowledge these people, mitigate any risks or roadblocks they present, and instead turn your attention and resources to the early majority. Focus on early majority members, share your workplace vision with them, answer their questions, and help propel them into the future vision.
Strategies for Managing Change
Workplace change is socially and technically complex. It requires management at a social and cultural level to ensure continuity of operations, alignment with enterprise strategy, and maintenance of organizational performance and morale throughout the initiative. The human element must be blended with the technical elements of space selection, design, planning, and allocation.
The following six strategies are proven methods for managing a workplace change.
1. Start with a common vision and ground changes in business goals
The biggest mistake you can make in a workplace change initiative is to assume everyone is on the same page at all levels related to workplace change. Before making any decisions, bring leadership and key stakeholders together and routinely meet throughout the change process to stay aligned around a shared, compelling vision for the future workplace. In these discussions, identify specifically how the future workplace supports overarching organizational or business goals. Communicate the vision, business driver, and goals to managers, employees and stakeholders early and often so they can see their role or stake in the change.
2. Have a clear process for governance
At the start of the workplace change project, determine with the leadership team how decisions will be made and who will be involved in the decision-making process throughout the course of the project. Communicate this to stakeholders and employees so they understand how decisions are made. If the organization has a labor union, board or unique stakeholder group, understand how and when these groups should be informed or engaged. Additionally, think about establishing an employee group of early adopters to champion the change and help leadership understand how the change is occurring at all levels of the organization. This group can help shape communications, build alignment with other employees and guide the development of policies and procedures. Skipping this step can derail the project or delay decisions down the road.
3. Identify places for employee engagement
To keep employees informed, motivated and engaged, identify some opportunities to engage employees. Employees often provide excellent ideas – so give them the opportunity. Perhaps include them in the early visioning about their ideal workplace or ask them to provide specific areas for input like the "identity" of their space – such as asking them to select an art feature, brainstorm conference room names or even choosing one or two finishing choices or color selections. Additionally, create regular opportunities for employees to understand the process and timeline as well as to ask questions. Identify a few areas for employee input, to give them a place to share their voice. This helps build feelings of ownership and excitement about the space.
4. Test or pilot things that feel radically different
If leadership's vision for the space is radically different from the space employees sit in and use today, allow people to experience and test the change first. For example, if the future space will include new collaboration space, lower walls between workstations or new technology, provide tours or demos to allow employees to get firsthand experience with the new features. Gather feedback and comments during this testing period to incorporate into the final design.
5. Have a targeted, consistent communication strategy
The key to any successful change effort is effective communications. Consider your entire stakeholder landscape and develop tailored messaging for each distinct stakeholder group. Identify your strongest allies and recruit them for change champion roles. Ask them to spread the message among their colleagues about the benefits of the workplace change. Strategically "place" champions inside different departments, and bring them together periodically to share insights and gain energy from each other. Additionally, communications should take on a cadence that employees can rely on in times of uncertainty, and provide transparent messages from leadership.
6. Make it fun and celebrate successes
Remember to incorporate a little fun into the change process – both in engagement activities with employees and within the workplace planning team. Create opportunities for the workforce to connect while also preparing for the workplace change. For example, create challenges related to document purging (such as the oldest document or funniest items found). Remember to acknowledge all team, employee and vendor contributions, as well as celebrate milestones and successes with reflections and acknowledgements. This will help maintain momentum, boost morale and reduce change fatigue.
To effectively implement these strategies, it's helpful to establish an interdisciplinary team that brings together initiative leaders, technology, space design and planning, change management and other relevant perspectives. Establishing an interdisciplinary team allows for a common understanding of decisions, overall project status and timeline of the initiative. It also ensures people are considered in every conversation and decision.
Just like changes in the personal sphere, workplace change can be a stressful time for everyone involved. Remaining mindful of the emotional process, as well as the physical one, helps the entire organization manage change more effectively. Maintaining transparency, having open dialogue with all stakeholders throughout the process, and nurturing connections with the early majority will help move the process along and help prevent the organization from taking a detour into unproductive behaviors and resistance to change.
For vendors, designers, A/E firms and facility managers, understanding the dynamics of change adoption and resistance — or partnering with someone who does — will go a long way in gaining employee buy-in and will ultimately lead to successful adoption of changes that will benefit the organization and drive business success.
REBECCA GAYNOR and KELLY BARLOW have 21 years combined experience working in change management for commercial and public-sector clients. Currently consultants at The Clearing, Rebecca and Kelly apply their extensive experience in workplace and organizational transformations, strategic communications and stakeholder engagement to ensure leaders, space designers and planners, facilities managers and other key stakeholders undergo smooth and successful workplace change initiatives.