Executive Summary
by Charles Paumelle, Barney Kinzer and Chris Leonard — Installing Internet of Things (IoT) sensors brings an array of new insights on costs, safety, security and sustainability in a modern office environment. Like anything new, however, the appearance of these tiny sensors around an office without proper messaging can raise eyebrows. The COVID-19 outbreak threw a spotlight on the vital necessity of data to help understand building performance, cleaning efficiency, waste management and other metrics related to safety and wellness. Put simply: building owners, managers and investors need the kind of data that only a comprehensive IoT solution can bring. Tenants, staff and residents need reassurance on health, safety and wellness concerns that can only come from empirical, historical and auditable data. Yet tenants and employees may still ask questions about the motivation for such installations. IoT data is so new that little research exists on the reactions that can be expected among tenants and staff to such projects. Happily, though, the experiences of large organizations which have launched new initiatives, digital and otherwise, in office environments over the past decade has fed a burgeoning store of change management 'lessons learned.' Together with Microshare's own experience pioneering IoT deployments, a store of best practices can be drawn upon to ensure that project goals and sensor capabilities are thoroughly understood before the first sensor appears in the workplace. Successful introduction of IoT sensors in workplace and other tenant environments should include three distinct phases of outreach:
Expressing a Vision for Change: Articulating to staff and/or tenants an overarching vision that these sensors advance, whether that is economic resiliency and cost savings; employee productivity and job satisfaction; occupant comfort and safety, or a broad effort at sustainability;
Identifying Stakeholders: Inviting leaders from various parts of the organization to help shape the project, set its goals and answer questions from tenants and/or staff.
Demonstrating Impact: Providing clear evidence of the benefits accruing from the new data streams, seeking quick wins early, all while providing clear channels for feedback from every tenant or employee they touch.

Introduction
"We are pleased to announce that some big changes are coming to the headquarters office."
The enthusiasm implied in that statement may be genuine, but from the standpoint of tenants and employees, it may not be shared. For as long as there have been offices, the office has been changing. And just like family upheavals and economic downturns, change in this context is not always welcomed.
The past two decades has brought major change to the contemporary workplace and the concept of work generally. Over the past several decades, design changes aimed at making offices more collaborative and productive have eliminated many offices, downplayed 1980s-style cubicles and introduced "hot-desking" for many employees. More broadly, part-time and remote workers make up a larger part of the workforce today, and that has led to a feeling of insecurity among the rank-and-file. Each of these changes brought both positive impacts as well as greater stress. Losing your enclosed office in the name of open plan seating is not everyone's idea of progress, after all. But throughout this period of evolution, a store of best practices for managing such changes has developed.
The introduction of IoT devices into the office or large residential environment is a very new phenomenon and it remains too soon to have historical data on likely employee reactions. In some ways, however, the COVID-19 outbreak, for all the sadness and stress it engendered, is a fantastic opportunity to abide by one of Winston Churchill's most famous quotations: "Never let a good crisis go to waste." This is not the time to stand pat; it's a time to take proactive measures to reassure building occupants – as well as investors, asset managers and others – that you are leveraging every possible technology to make your properties safe, responsive, efficient and sustainable.
Microshare, in the vanguard of this movement, has led dozens of such installations over the past three years and has helped clients manage the concerns of staff, tenants and management. Working with some of the world's largest corporations and facilities management firms, often in tandem with our partners at Microsoft, we have first-hand experience in addressing the questions, concerns and sometimes objections that may be raised.
A Vision for Change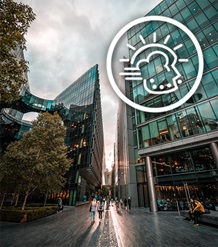 Change is most abrupt when it disrupts established routines without warning and absent a clear rationale. Decreeing that all employees will engage in yoga every morning for 15 minutes before getting down to business may have positive effects. But you can be sure it will be deeply resented by some and could even lead to litigation. From dress codes to vacation policies to what does or does not get stocked in the office fridge, a change in routine procedure always goes over better when a direct line can be drawn from the decision to a larger vision statement that defines corporate culture and worker expectations in a positive light.
Most companies define success something like this: revenue growth leads to profitability, and that financial success accrues to employees in the form of higher pay, promotions and perhaps equity grants. Residential properties stress comparative rents and amenities to retain tenants and bolster net operating income. These are a fine and time-tested approach for a shareholders' meeting or investor communications. But current market and regulatory trends warrant an expansion of this definition and to include as goals employee and tenant satisfaction, staff diversity, occupant safety and the overall sustainability of the facility in question. In today's business environment, a firm's reputation and brand must align with the times. Additionally, today's buoyant economy has its own effects. For corporations, the tight labor market that prevailed before the 2020 Coronavirus outbreak taught them that skilled jobs are more difficult to fill, and as such companies placed a greater premium than ever on employee retention. In the multifamily residential space, margins are squeezed and every good tenant is thus all the more valuable. This is only amplified by the COVID-19 uncertainties.
This is the context through which an IoT sensors and data deployment project must be viewed. For most employees, the workplace represents a significant slice of their lives. Some may spend more time at the office than they do at home; others view it as a significant social network and an important factor in their identity. And for residential tenants, of course, this is literally "home" and visceral reactions to sudden change are all the more likely.
For all these reasons, staff and/or tenants must be viewed as significant stakeholders when planning an IoT sensor deployment. Our experience suggests the following:
Express a clear vision for the deployment of IoT sensors before they begin appearing in workspaces and common areas. This will help win support and manage the concerns of those working, transiting or residing in a building.
This high-level vision should come from senior management and ideally will fit neatly into a larger, strategic goal pursued by the organization. For instance:
Building wellness – reducing infection risk through predictive cleaning solutions, monitoring air and water quality, providing anonymous feedback sensors for occupants to that they feel heard – are just some of the themes that will resonate as the world returns to dense working and living spaces after the worst of the COVID-19 outbreak has passed.
Any organization might stress the need to curb energy waste and improve sustainability within its property portfolio as part of a green building strategy.
A company with hot desking and/or a significant volume of meeting spaces, can improve employee productivity and satisfaction by providing real time availability information of desks and meeting spaces. Strategic decisions on square footage and rent informed by occupancy data can potentially save millions for corporate portfolio managers.
Hospital management can stress the goal of lowering internal infection rates when installing predictive cleaning and other sensors in restrooms and wards. (View a Microshare webinar on our how our solution worked in a large UK hospital).
Property managers can align such deployments with health, safety and productivity goals, whether the sensors are testing water for proper temperature characteristics to avoid Legionnaire's Disease (Legionella), or the quality of indoor air to prevent concentrations of carbon monoxide or other elements.
Sensors that track assets, like luggage carts in a high-rise apartment building, wheelchairs in a large hospital, or expensive tools and cleaning equipment in any facility, keep overhead under control and make life safer and easier. Staff currently tasked to hunt these things down, for instance, can spend more time doing their real jobs.
Facilities management firms and other asset manager can point to rising pressure in the market from so-called "ESG" data – Environmental, Social, Governance – to explain the need to collect diverse performance data on offices and other buildings.
Sensors that provide a way to anonymously feedback or to report problems can rightly be associated with transparency and accountability initiatives.
'What Is That Thing, Anyway?
In most workplaces, employees may have a say in their physical environment and the technologies deployed there, but at the end of the day these things are generally beyond their control. Similarly, residents of a large multifamily apartment complex feel they might be consulted or forewarned about changes to landscaping, fixtures or other amenities, but ultimately these decisions rest with property owners. This dynamic can be a source of insecurity and ultimately a drag on employee retention and/or lease renewals.
The unexplained appearance of sensors will invariably tap into these insecurities. Will that sensor be used to track my movements? Is it recording my voice? Am I being photographed or assessed against some consultant's arbitrary productivity or desirability standard? Is building management trying to save money on energy at the expense of my comfort? These are not unreasonable questions, and they should be dealt with directly.
Each installation is unique, and indeed to goals of building owners who launch IoT data projects in offices or other facilities also differ. Microshare's experience suggests that anonymization of data and a clear promise from building owners that no data is collected will be traced to a particular individual is the key to avoiding the most fraught concerns.
Abuses of data privacy by major technology companies, hackers and foreign governments are a major issue in most of the world's more advanced economies. Privacy law itself is evolving, and companies generally choose to steer clear of IoT projects that attempt to leverage individual data as a substitute for traditional performance measurement systems.
In advancing an overarching vision for the project, senior management should consider grappling directly with some of the most common fears directly.
Stress the anonymization of any data collected.
Ensure staff that none of the sensors record audio or video.
Make it clear that the sensors are aimed at measuring the performance of physical plant, not human beings.
Highlight the positive safety, performance and sustainability goals of the project and how these directly benefit employees and/or tenants.
Such messaging will not entirely dissipate concern among a large corporate workforce, but it will go a long way toward establishing credibility with the new project will cement once it's up and running.
Office Deployments: Stakeholder Engagement, Planning and Messaging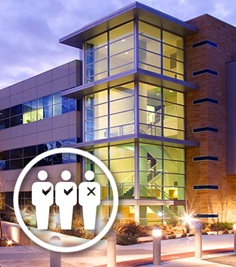 During multiple installations in large corporate environments around the world, Microshare has found that the engagement of internal stakeholders is best done during the planning, pre-installation phase. Every organization is slightly different and sometimes the list below can be streamlined. But, ideally, at least one person from each of the following areas of a corporation would be aware that an IoT Data Advisory Panel to assess and help communicate the goals and details of the installation has been formed. Remember, the new can be shocking, especially if it comes as a surprise. It is better in our estimation that the stakeholders below are fully aware of your plans….
[Continued on the Microshare website]
To see this list as well as the rest of this article, go to:
https://www.microshare.io/managing-change-best-practice-in-large-facility-iot-data-deployments-landing/
About Microshare
About Microshare: Microshare™ provides Digital Twinning solutions for the Commercial Real Estate, Health Care and Infrastructure sectors and the Facilities Management and REIT industries.  Our Data-as-a-Service approach leverages IoT metrics across multiple platforms, providing actionable insights with privacy, security, audit and confidentiality so that our clients can save money, rationalize strategic spending decisions and create new data sharing revenue streams. More at www.microshare.io.