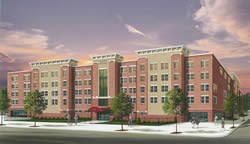 by Brianna Crandall — September 1, 2014—MEM Property Management Corporation was recently selected as the new property management company for Summit Heights Condominiums, a five-story condominium building located in the Jersey City Heights section of Jersey City, New Jersey. Summit Heights is described as an attractive all-brick condominium development located at the intersection of Secaucus Road and Summit Avenue in Jersey City, and is conveniently located within walking distance to schools, shopping and transportation.
"We are very excited to be chosen as the new management company for Summit Heights Condominiums. We look forward to working with an outstanding dedicated board and deliver many of the services and support that the previous management company neglected," says Martin Laderman, founder and CEO of MEM Property Management.
The Summit Heights residences feature granite countertops, stainless steel appliances, and dark cherry kitchen cabinets. The units' windows offer abundant natural light, and each apartment has premium wood flooring. For the convenience and security of the buildings' residents, each unit includes a deeded parking space that belongs to the condo owner in the building's private garage. There is also a private state-of-the-art fitness center for residents that boast a wonderful view of the New York City skyline.
In addition, Summit Heights Condominiums has attained the prestigious Silver level of LEED (Leadership in Energy and Environmental Design) certification for its energy efficiency and sustainability measures and the developer's commitment to environmental excellence.
Summit Heights Condominiums residents reportedly appreciate an easy commute to New York City and a wide variety of local amenities that have made Jersey City a popular area for families and professionals. It is directly across the street from a shopping center, a block from a bus to downtown's Journal Square and the PATH station, and near the light rail that easily connects locations throughout Jersey City and Bayonne.