by Brianna Crandall — June 26, 2013—Workplace furniture solutions provider Allsteel is addressing the ongoing evolution of the workplace with its latest furniture solution, Create, that brings teams together, makes the most of a footprint, and offers privacy in an open environment. Allsteel introduced Create at NeoCon 2013 in Chicago June 10-12, winning a Gold Award in the Furniture Systems category of the Best of NeoCon product introduction competition.
Create was designed to support the evolution of all types of work, at a pace that fits the needs of each individual organization. The new product line offers an agile furniture system that includes surfaces, supports, screens and storage that can be configured to form a wide variety of work environments. Create also has the flexibility and scalability to allow customers to efficiently reconfigure their space on the spot, or over time. The line has features helpful for facilities managers such as a drawer that can hold a laptop and a docking station, with slots for wiring to run out and a means for heat to escape—a great solution for those who work off of one laptop that goes back and forth between the office and home.
"With Create, we readdressed the open plan environment and deconstructed it to its essential elements to support an organization's individual spatial needs. We designed a system with the greatest level of flexibility for work in an individual or collaborative setting," said DJ Heil, director of new product at Allsteel. "We want to put emphasis back on 'work' being what you do, not where you go."
Create was developed to support the needs of an organization's people, not just space. Create allows users to work in environments that are most productive to their individual or organization's needs. Integral to this notion is the innovative Power Hub, the structural support for the system that can also double as a stand-alone power and data terminal. The Power Hub increases flexibility by providing a range of solutions — from individual, focused workstations to collaborative areas, each connecting people to power and data. Previously, connection to power could limit space configuration options, but with Create, power becomes the catalyst that allows users the agility to do their best work in a wide variety of settings.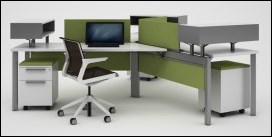 Create was designed with seemingly limitless configuration possibilities that can be employed either tethered or untethered, linear or organic. Create's unique trapezoidal-shaped work surfaces offer an alternative approach to 120-degree planning. The trapezoid surface achieves 120-degree design without aligning users in face-to-face configurations and provides options so users do not fully face away from high-traffic areas such as hallways. Whether designers or FMs are looking for configurations like a linear bench or other organic work settings, Create has a solution to fit all work spaces and styles, opening the door to free thinking, planning and inspiration.
To learn more about Create and #createatwork, a tapestry of ideas that are shaping the workplace of today and tomorrow, visit the Create/#createatwork Web site.