by Brianna Crandall — June 26, 2015—Stir, creators of the award-winning Stir Kinetic Desk, showcased its latest additions to the Stir product line at the NeoCon 2015 contract furnishings show last week in Chicago: the Stir Kinetic Desk M1 and the Stir Analytics for Business dashboard.
Stir Kinetic Desk M1
Joining the flagship executive model F1, which took a Best of NeoCon Gold in June 2014 and gained attention far beyond the show for the fledgling company (including from the White House—see FMLink article), the new Stir Kinetic Desk M1 offers a slim, flexible design and lower price point. The new M1 expands the Stir experience beyond the home and corner office, ready for full-office installations from 10 to 10,000 desks.
Like the executive F1, the new M1 is a height-adjustable desk driven by software that senses the user's presence, learns preferences, enables goal setting, and actively reminds the user to change positions throughout the day. The F1 and M1 feature entirely new, custom-designed electronics engineered to provide a faster and richer experience for users. The processor is four times faster (1GHz-Cortex-A8 [ARMv7]), along with doubled data storage capacity.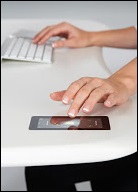 The new five-inch LCD screen has 800 x 480 resolution with a 360-degree field of view, significantly increased brightness, and an anti-glare film, making it much easier to see in any office environment. Five-finger multi-touch support has also been added, enabling future features such as "pinch to zoom." Finally, the electronics design is completely modular, including a Single Board Computer (SBC) and a proprietary cape module, housed together in a removable electronics enclosure, making the desk very easy to service in the field.
The Stir Kinetic Desk moves between user-selected heights with a simple double tap on the embedded touchscreen, and reminds the user to move with the Stir signature Whisperbreath function—a gentle one-inch rise and fall of the desk surface. All Stir Kinetic Desks feature ultra-smooth and quiet motorized legs that reportedly move the desk up and down without vibration or shudder. The company is pleased to report that the desk is "changing the way people work—on average, Stir Kinetic Desk users stand for half their day, while 95 percent of users move everyday."
The Stir Kinetic Desk M1 is available in a rectangular shape in three standard sizes: 30″ x 48″, 30″ x 60″ and 30″ x 72″, with various edge types and worksurface finishes. Some configurations are available in as little as eight weeks, and all are built in the USA.
The new Stir Kinetic Desk line also comes with a cloud-based architecture, allowing for transferrable user data that can "travel" with workers as they move between desks within a company network or around the world. Leveraging low-energy Bluetooth devices like Fitbit, the desk recognizes and can seamlessly identify one user from another, making it effortless for users to be logged in and out of any Stir Kinetic Desk. This advanced cloud architecture will provide a platform for more integrations and expanded features in the future, with Android and iOS compatibility in development.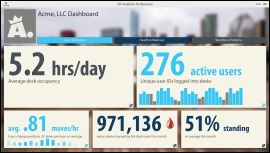 Stir Analytics for Business dashboard
The new Stir Analytics for Business is an innovative corporate data platform that aggregates information from communities of Stir Kinetic Desk users, providing companies with data that taps into the pulse of their workforce and workspace to maximize engagement and outcomes.
Delivering never-before-available data and using Stir's cloud-based architecture, Stir Analytics for Business not only provides intelligence on workspaces and workforces but also enables conclusions based on how the two are connected. In addition to providing users with data and tools to help them make the most of the time at their desk, Stir now delivers information that companies can use to improve their bottom line.
Designed for executives, human resources (HR) professionals and facilities staff, Stir Analytics for Business enables companies to gain insights and see patterns for the physical environment and the communities within them. Using the platform, a company can understand desk utilization and the work environment, as well health and wellness, presence and activities, all to improve the effectiveness of their workforce. Companies can now get a picture of what patterns and programs during the workweek impact wellness initiatives and yield the best results.
For example, HR professionals can view the health and wellness data of their workforce and use it to negotiate for premium reductions on insurance for their company based on usage of Stir Kinetic Desks. If an employer knows what day of the week typically shows highest average desk attendance, that insight can be used to strengthen, expand, replicate or even change the patterns that are leading to that outcome, explains Stir.
The new Stir Analytics for Business platform provides aggregated and anonymized data. Companies will not be able to connect any individual's identity to the information found in the dashboard, assures Stir.
The product is available to any company with an installation of 20 or more desks at a single site. The real-time analytics dashboard can be made available to a single administrator or an entire administrative team. The platform has the capacity to scale up to an unlimited number of desks within an organization. Future versions of the analytics platform will allow for varying degrees of data reporting for individual teams and groups within an organization. The system is free for any organization with 20 or more desks.