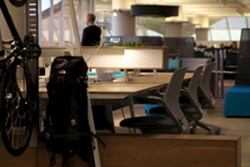 by Ann Withanee — June 20, 2011—When is a desk not just a desk? Turnstone, a division of Steelcase, unveiled Bivi by Turnstone, a unique approach to helping today's workers connect to work and life, during the NeoCon World's Trade Fair in Chicago at The Merchandise Mart. Bivi won a Gold award in the Best of NeoCon product competition.
Bivi offers a clean, simple, well-designed place to work, but reportedly goes beyond the ordinary. Bivi is a desk at its core; it contains integrated troughs for cables and power cords, and provides for individual or group work. But where Bivi goes out of the ordinary is beyond the desk: a first-of-its-kind integrated Rumble Seat and Hoodie; integrated storage; and arches that support canopies, mountain bikes, and snowboards.
Turnstone studied 20 small and emerging businesses, which led to the development of the product. At their core, the studies revealed the best employers work hard and live well—often doing both at the same time. Bivi is designed to be the most reconfigurable, most adaptable system of its kind, allowing people to celebrate their individuality and independence. According to Bivi, it's a desk. It's a team table. It's a lounge setting. It's a bike rack. It's an information display. It's a brand statement. It's a personal statement.
Bivi ships in a week, is delivered within 10 days, and can be put together with one simple tool in less than three minutes. Bivi starts at $439 for a single workstation. For more information visit Turnstone.