by Brianna Crandall — March 9, 2015—The Centers for Disease Control and Prevention's (CDC) National Institute for Occupational Safety and Health (NIOSH) launched publications and initiatives in recent weeks dealing with worker exposure to silica, construction falls, respirator use, MSDs in manufacturing, Ebola, how workplace safety and health initiatives contribute to business success, wearable technologies and more. Several are highlighted below.
OSHA/NIOSH Hazard Alert: Worker Exposure to Silica during Countertop Manufacturing, Finishing and Installation DHHS (NIOSH) Publication No. 2015-106 : The Occupational Safety and Health Administration (OSHA) and NIOSH have identified exposure to silica as a health hazard to workers involved in manufacturing, finishing and installing natural and manufactured stone countertop products, both in fabrication shops and during in-home finishing/installation. This hazard can be mitigated with simple and effective dust controls in most countertop operations.
Opportunities for Employers To Create a Safer and Healthier Workforce DHHS (NIOSH) Publication No. 2015-108 : This publication supports the emerging body of evidence that recognizes that separate occupational safety and health approaches are not as effective as integrated approaches that consider worker safety, health, and well-being at work and beyond the workplace. NIOSH says more employers are making the connection that a safe, healthy, and engaged workforce affects their bottom line.
NIOSH Update: Stand Tall, Stand Proud, Stand-Down for Fall Safety : NIOSH and partners announced the second annual construction Fall Safety Stand-Down during the weeks of May 4-15, 2015, which asks employers and workers across the nation to pause in their work and dedicate time to activities that promote the prevention of fatalities from falls.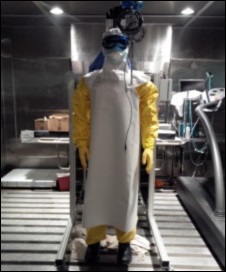 NIOSH Science Blog: A Perfect Romance: A Valentine's Day Guide to the Necessary Considerations of CBRN APR Use : NIOSH celebrated this romantic holiday by showing a little love for respirators. This year NIOSH highlighted the special considerations necessary for the use of CBRN APRs (Chemical, Biological, Radiological, and Nuclear Air-Purifying Respirators).
Federal Register Notice: Proposed Data Collections Submitted for Public Comment and Recommendations: Proposed Project: Interventions to Reduce Shoulder MSDs in Overhead Assembly (OMB No. 0920-0964, expires 4/30/2015) : NIOSH proposed a three-year extension for a study to assess the effectiveness and cost-benefit of OSH interventions to prevent musculoskeletal disorders (MSDs) among workers in the manufacturing sector.
NIOSH Science Blog: Fighting Ebola: A Grand Challenge for Development – How NIOSH is Helping Design Improved Personal Protective Equipment for Healthcare Workers : NIOSH is participating in President Obama's "Grand Challenge" to help design improved PPE for use by healthcare workers during treatment of Ebola patients.
Good Health is Good Business: How CDC Contributes to a Safer, Healthier Workforce : This publication shows how the CDC works to translate science into best practice, providing employers with a wide range of programs and guidance to improve employee health and safety while raising business profitability and productivity.
NIOSH Science Blog: The Future of Wearable Technology in the Workplace by Ismail Nabeel MD, MPH FACOEM: Dr. Nabeel writes about the remarkable new technologies called "wearable computers." Dr. Nabell took part in Google's "Google Glass Explorer Program" in 2013 and transmitted the point of view of a surgeon during a live orthopedic surgery to medical students in real time.