by Shane Henson — September 23, 2011—Panasonic introduced several new products and solutions that may be of interest to facilities personnel concerned with making their buildings more secure. The products, which included security and video surveillance systems, were showcased during ASIS International 2011 in various booths.
For the education vertical, Panasonic demonstrated Panasonic pan-tilt-zoom (PTZ) cameras with privacy-protecting "eyelids" that open only when alerted, guaranteeing student and teacher privacy except in the event of an emergency. When a teacher discreetly activates the system using a panic button on the Panasonic pendant microphone (also used for classroom audio), the camera's eyelids open to allow emergency responders and authorities to see into the classroom.
For the retail vertical, Panasonic exhibited the WJ-NV200 NVR with the addition of the WJ-NVF20 software package geared toward facial detection, age, and gender estimation for the retail environment, which can also serve as an important management solution.
For the stadium vertical, the company displayed new i-PRO SmartHD weather-resistant cameras, which include high-end, pan-tilt-zoom (PTZ) dome cameras offering 720p HD resolution, mega super dynamic image processing, 36x optical zoom, smooth PTZ control and advanced auto-track functionality.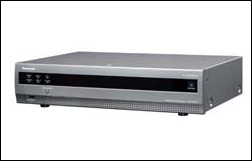 Another new video surveillance product on display from Panasonic included the new i-PRO WV-ASM200 Video Management Software, which can unify hundreds of network and analog cameras, network and analog recorders, and encoders into a centralized control platform. Even multi-recorder, multi-site systems are easy to manage using the WV-ASM200's intuitive operation, camera, alarm and recorder icons, and map display, according to Panasonic designers.
Panasonic also displayed a new line of compact POE network cameras with recording on SD Memory Cards that are ideal for discreet operation on buses as well as trains, subways, elevators and at ATMs.