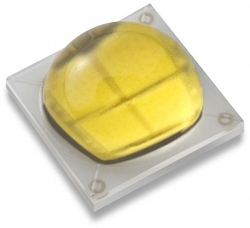 by Shane Henson — February 1, 2012—Philips Lumileds, a leading provider of light-emitting diodes (LEDs) for illumination solutions, has launched LUXEON M, an illumination-grade LED the company says was designed to simplify solution design, reduce costs, and provide the optic control and quality of light required by outdoor lighting applications, as well as high-bay and low-bay lighting solutions.
"LUXEON M performance fundamentally lowers the cost and design complexity for a wide range of applications in the outdoor and industrial markets and equips lighting fixture designers with a source that allows them to meet the ever-increasing demands of customers and regulators," said Rahul Bammi, vice president of marketing for Philips Lumileds.
According to the company, LUXEON M will release with three different Correlated Color Temperatures (CCTs)—3000K, 4000K, and 5700K—each with specified minimum Color Rendering Index (CRI) of 70. Each part is hot tested and specified at 85°C and delivers freedom from binning, which means that there are no color bin selections to be made. LUXEON M will be broadly available in the second quarter of this year.
Initial specifications for LUXEON M include:
More than 900 lumens at 700 mA and 85°C junction temperature;

Efficacy greater than 120 lm/W at 350 mA and 85°C junction temperature; and

12 Volt / 8 Watt package on aluminum nitride (AIN) substrate, strongly increasing performance and reducing toxicity.
Lumileds, later called Agilent Technologies, began as the optoelectronics division in Hewlett-Packard (HP) almost 40 years ago, writing the book on LEDs. The division started collaborating with Philips Lighting in the late 1990s, eventually merging and forming Philips Lumileds.