by Shane Henson — January 8, 2014—The Washington Metropolitan Area Transit Authority (WMATA) already helps Washington, DC, reduce its impact on the environment through providing a means for thousands of people to leave their cars at home each day and take advantage of public transportation. Now WMATA will also be helping the city save energy through its recent award of a 10-year performance lighting contract to the Philips Lighting division of global diversified technology company Royal Philips Electronics.
Through the contract, WMATA will upgrade the lighting in 25 of its parking garages. More than 13,000 lighting fixtures will be converted to an innovative, custom-designed light-emitting diode (LED) lighting solution that will reduce energy usage by 68 percent or 15 million kilowatt hours per year and provide real-time data on energy consumption. According to the company, the new Philips system is a first of its kind and will not only make the garages brighter and safer for WMATA's 66,000 parking garage customers, it will remove over 11,000 metric tons of CO2 from the environment. Philips will monitor and maintain the lighting solution, which will be financed through energy cost savings, requiring no up-front capital costs.
Created by an interstate compact in 1967, today WMATA serves 86 stations and operates a 106-mile rail system. A fleet of 1,116 Metrorail cars provides service seven days a week. The organization says it continually looks for ways to improve the safety and experience of users, and recently decided to upgrade its aging high-pressure sodium lighting system to an innovative LED system from Philips that could provide white light exactly when and where it was needed. Additionally, the anticipated carbon footprint reduction in moving to the more energy-efficient system is the equivalent to removing over 2,300 cars from the road, figures Philips.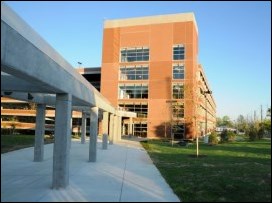 Manufactured in Philips' facilities located in San Marcos, Texas, the new system is open and flexible, allowing it to be combined with other building automation systems. It will cover both the interior and exterior lighting of the parking garages and will include the company's latest site-specific systems, the Philips Gardco G3 LED parking garage luminaire and the Philips Gardco EcoForm luminaire.
Both feature the latest Philips LUXEON LED technology, as well as a modular design that can be configured to the lighting needs of each garage. An adaptive motion response system and innovative wireless controls allow the system to dim when no one is present and seamlessly increase light levels when a space is occupied—creating a safe environment while achieving even higher energy savings, says Philips.