Public restroom maintenance is an important daily task with which most cleaning industry professionals are familiar, since restrooms are a frequently used area in any facility and their upkeep can affect public perceptions. But wanting to hear straight from cleaning industry professionals what it takes to keep this critical area in top shape, ISSA and Clorox Professional Products Co. conducted a survey to find out about tough jobs in the restroom.
"At ISSA, our goal is to arm our members with the knowledge and educational tools they need to help them perform their jobs optimally," said ISSA Sales Director Anthony Trombetta. "This survey endeavor with Clorox Professional allows us to gather valuable insights so that we can continue to fulfill that need."
When it comes to public restrooms, cleaning industry professionals have two important jobs: cleaning for appearance and cleaning for health.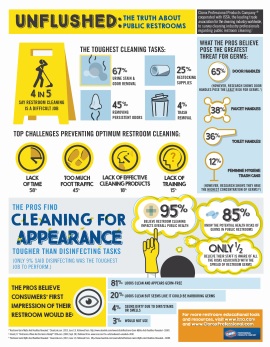 (Click on image to enlarge)
Survey Findings
According to the survey's results, most cleaning industry professionals (85 percent) are fully aware of the importance of this dual role. The vast majority (95 percent) also believe that restroom cleaning has an impact on overall public health helping to prevent the spread of disease. However, this understanding may not trickle down to all employees; less than half of respondents (49 percent) believe their staff is aware of all the risk associated with the spread of germs in the restroom.
The survey also found that:
One in five respondents (20 percent) believe that the general public may think their facility's restroom harbors germs.
Most cleaning professionals believe that restroom handles harbor the most illness-causing germs and bacteria, particularly restroom door handles (65 percent), faucet handles (38 percent), and toilet or urinal handles (36 percent). However, secondary research shows that handles pose the least risk for germs. The feminine hygiene trash can, which only 12 percent of professionals believe to be germy, has one of the highest concentrations of germs.
"Cleaning for aesthetics" tasks are viewed as tougher than "cleaning for health" (disinfecting) tasks.
Only 29 percent of supervisors reported instructing their staff most often to disinfect surfaces.
Although on top of restroom cleaning needs only a small number (15 percent) of respondents report a lack of education or training as a challenge to performing optimal restroom cleaning, far more (68 percent) say their staff does not or only somewhat understands the differences between cleaning, sanitizing, and disinfecting.
Almost all (94 percent) rely on product usage instructions to train staff, but 43 percent of those think these tools could be improved.
Nine in 10 (90 percent) of cleaning professionals use restroom cleaning protocols or guidelines, but half of them (45 percent) believe these tools could be improved.
To see more results from this survey, see the adjoining page and visit www.issa.com and www.cloroxprofessional.com.