by Dave Mesko — A woman from Virginia was awarded more than US$12.2 million in damages for injuries she suffered in a slip-and-fall accident at a convenience store. A quick stop to pick up a newspaper resulted in a life-changing experience. While entering the convenience store, she slipped on a puddle, fell forward and lost consciousness.
A business owner, the woman needed to return to work the day after her fall. However, she began to experience seizures and was diagnosed with post-concussion symptoms that would result in a lifelong disability. The payout was compensation for the extensive physical, mental and emotional trauma she continues to experience.
Unclean and unsafe floors are the cause of approximately 50 percent of slip-and-fall accidents, followed by inappropriate footwear, fraudulent claims, inadequate hazard identification and insufficient employee training. In addition to causing injury to employees and guests, slip-and-fall accidents can cost a business thousands, or millions, of dollars in legal fees and settlements. According to the National Safety Council, compensation and medical costs associated with slip-and-fall accidents are approximately US$70 billion each year. They also can result in a public relations nightmare that can cast a lasting shadow over an organization.
To help prevent slip-and-fall accidents, facility managers have been encouraged to implement a program that addresses spills immediately, captures contaminants and removes other potential hazards. However, many initiatives don't go far enough, and as a result, standards organizations and legislative authorities are looking to improve regulations to reduce incidents. To prevent devastating injuries and subsequent lawsuits, facility managers need to implement a comprehensive program that takes into account all contributors to a slip and fall including floor type, matting placement, cleaning methods and maintenance frequency.
Changing standards: Grounds for litigation
Hoping to reduce slip-and-fall incidents and injury rates, occupational safety groups and standards organizations are looking to enhance floor-safety regulations. For example, the National Floor Safety Institute (NFSI) has partnered with the American National Standards Institute (ANSI) to develop a new standard in measuring slip-and-fall risk. Through the new system, facility managers can determine effectively their facility's risk and plan accordingly to reduce accidents and costly litigation.
Additionally, OSHA has introduced a set of rigorous standards designed to enhance safety and prevent accidents in the workplace. OSHA's requirements call for businesses to maintain all flooring throughout the facility by keeping it clean, dry and free from obstructions.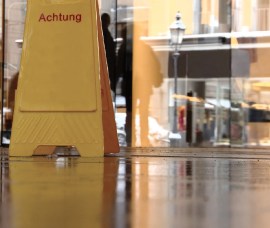 These standards have implications for businesses that don't have safe floor programs in place, because they offer leverage for plaintiffs and prosecutors in slip-and-fall claims. If facility managers do not show due diligence in implementing a program to protect workers and patrons from a slip-and-fall accident, it is easier for a plaintiff to demonstrate negligence.
"It is in a facility manager's best interest to stay abreast of current standards," said Russ Kendzior, president of the National Floor Safety Institute. "They establish the specific criteria and protocol needed to not only test the traction of floors, but also the components necessary to develop and maintain a program that helps reduce the opportunity of slips and falls from happening."
Developing a safe floor program
While the type of facility and business play a critical role in the safety of a floor, ongoing maintenance procedures play an equally important role in protecting employees and guests. Depending on foot traffic, even a freshly cleaned floor can accumulate dirt, liquid and debris quickly. These contaminants, when pushed into semi-porous substrates such as granite or tile, begin to build up in a process called polymerization, which increases likelihood of slips and falls. As polymerization continues, it becomes more difficult to remove and flooring safety is diminished.
Cleaning and maintaining flooring is the most important factor in determining slip resistance, regardless of flooring type. By developing a comprehensive safe floor program, facility managers can increase overall safety of guests and employees.
A safe floor program involves three essential steps:
Deep Clean. The first step in revitalizing a floor surface to prevent slips and falls is a deep cleaning, which should be completed throughout the facility. Daily vacuuming and mopping reduces particulates in flooring, but fail to capture and remove all contaminants. Floors become worn out over time, and grout lines that were once clean become black with buildup.

Periodic deep cleaning revives floors to reduce accidents and protect staff and patrons. By combining temperature, agitation, chemicals, time and extraction, deep cleaning removes all dry particulate soil and residue left behind by conventional methods. With restored floors, facility managers promote a positive image for everyone who enters the building and demonstrate an observable commitment to cleanliness and safety. Restorative cleaning also can be combined with a traction treatment, particularly with quarry tiles, to increase the traction by removing surface polishing of the tile due to foot traffic and rejuvenating the coefficient of friction of the tile.

Protect. Once flooring is restored, matting provides an additional way to reduce accidents by capturing dirt and water before it enters the facility. Strategically place mats throughout the facility to capture dirt and water and reduce slips and falls. NFSI standards suggest that management identify and measure potential slip hazard potential throughout a facility to optimize matting placement. Assess mat placement by identifying the floor zones where mats are most beneficial; entrance, high-risk, high-traffic and productivity zones. After determining matting zones, choose matting that is appropriate for each area. Entrance matting works as the first line of defense against the spread of water, dirt and contaminants throughout the facility. Additionally, place anti-fatigue matting in productivity areas to enhance employee safety and reduce worker's compensation disputes. Interior matting provides a final line of defense by quickly capturing contaminants and liquids from employee and guest shoes. In industrial environments such as a manufacturing plant or automotive shop, lubricants and other slippery substances are quickly contained through tactical placement of matting. A four-zone matting placement program ensures slips and falls are prevented in a proactive, liability-reducing manner.

Select mats that are certified "High Traction" by NFSI to reduce the risk of slips, trips and falls. The NFSI tests mats in laboratory and real-world settings to ensure mats meet the highest safety standards.

While matting placement and type is key to increasing safety, mat cleanliness and maintenance should always be top of mind. Ensure that matting is always properly laundered and replaced on a continual basis. Often, poorly maintained matting will curl or tear at the edges and increase slip and fall likelihood instead of reduce it. Similarly, NFSI explains that heavily soiled matting can transfer captured contaminants to shoes causing an inkpad effect, which will actually spread debris and water around the facility. Partner with a matting service provider to ensure matting stays clean and effective in reducing slip, trip and fall accidents.

Maintain. Daily floor maintenance is vital to maintain a facility's cleanliness and safety. Develop a daily maintenance schedule to ensure that floors are cleaned before and after peak business times to reduce risk of employee and guest injury. Boost effectiveness of cleaning protocols by using quality equipment and cleaning tools. Microfiber mops work to effectively remove particulates and liquids from all areas of the building. After daily cleanings make sure employees place proper signage throughout wet areas to warn guests and reduce devastating accidents.

Keep in mind that damp or wet mopping by itself doesn't clean a floor especially in facilities with frequent foot traffic. Agitation using deck brushing or other tools that work with a mop (including an autoscrubber for larger areas) is important to keep surfactants and soils from building up on the floor. In addition, proper dilution is essential to ensuring floor care chemicals work properly. Wall-mounted chemical dispensing units ensure that the proper dilution is correctly mixed each time for added safety and inventory control. Provide ongoing training so employees know how to properly clean floors and reinforce cleaning frequencies with checklists so other team members know exactly when floors were last cleaned.
Changing standards: Grounds for litigation
Hoping to reduce slip-and-fall incidents and injury rates, occupational safety groups and standards organizations are looking to enhance floor-safety regulations. For example, the National Floor Safety Institute has partnered with the American National Standards Institute to develop a new standard in measuring slip-and-fall risk. Through the new system, facility managers can effectively determine their facility's risk and plan accordingly to reduce accidents and costly litigation. FMJ
Dave Mesko is senior director of marketing for Cintas with more than 16 years industry experience. Cintas Facility Services offers a wide range of solutions that enable businesses to build their image and increase profitability and productivity.
For more information on Cintas' safe floor programs for facilities, go to www.cintas.com/FacilityServices/Solutions/Floor-Safety.