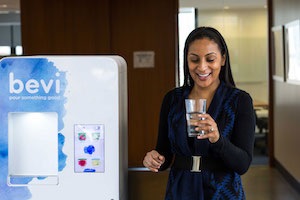 The Problem
Revel Systems was a fast-growing company with an equally fast-growing facility maintenance issue: managing snacks and beverages for their employees had become an around-the-clock job.
Elke, the facilities manager at Revel, found herself buying 200 cases of water per month for the 250 employees in the San Francisco office. Not only was the cost adding up, but Elke was also spending an hour and a half, at minimum, restocking drinks on both floors. "It was insane," she said. "I had better things to do with my time." So Elke began to seek out a solution that would reduce her workload without compromising Revel's commitment to providing their employees with healthy options.
The Solution: Bevi
The solution was simpler than Elke could have ever imagined. By swapping out one of Revel's old water coolers with Bevi's eye-catching still, sparkling, and flavored water machine, Elke killed two birds with one stone. Almost immediately after getting Bevi, Elke was able to remove all bottled water and cans of sparkling beverages from the refrigerators, with no complaints from employees. It was simple, Bevi hooked up directly to office's water line and provided an even wider variety of beverage options than before.  "It went really well from moment one," said Elke.
The Benefits Breakdown
    After bringing in Bevi, Elke received praise from the entire company for her commitment to reducing waste.
With each new large-scale beverage order, Elke became more and more bothered by the amount of waste generated in the form of bottles, cans, and cardboard packaging. Not only was this waste a hassle to manage, but it was contributing to the growing epidemic of plastic pollution. After adding Bevi to their office, the recycling bins and trash cans needed to be emptied less often, and employees were inspired to be eco-friendlier by using their own reusable bottles.
    Revel cut beverage costs by 80% by using Bevi.
Before Bevi, Revel was spending almost $65,000 a year on water bottles, sparkling water, and flavored water. With Bevi, they were able to drastically cut their spending while still providing their employees with the same perks. For Elke, Bevi was the perfect way to cut costs and reinvest the difference in expanding Revel's healthy offerings.
    Bevi makes healthy hydration easy.
Revel employees are now consuming 50% more water with Bevi than before. As Elke explains, it's easier than ever to make a healthy choice in the office: "when you want a soda, you just go for the flavored water instead. It's healthier, easier, and more fun, so why not?"
    Because Bevi is internet-connected, Elke has a lot of her time back.
Stocking the fridge used to take 1.5 hours of Elke's day, which equates to about $14,000 a year in lost work hours. However, after Revel got Bevi, Elke no longer had to spend her valuable time restocking, taking inventory and putting in orders.
Bevi's white glove service is included in the price of the water cooler. The machine itself is internet-connected, allowing Bevi's service team to proactively restock flavors, monitor CO2 levels, and change water filters before anything runs out. Better yet, as Revel expands and adds new team members, Bevi will scale with this growth, providing the same service and beverage offerings with zero additional work for the facilities team.
    Managing employees' wants and needs has been simplified thanks to Bevi's data-driven reports.
Bevi's backend software tracks how much and which kind of water employees are consuming. Using these reports, Elke has been able to make educated decisions about cutting or keeping certain flavors in the Bevi as well as gain a better understanding of her employees' tastes. In general, these reports have saved Elke a boat load of time, as she no longer has to make guesses as to which flavors her team likes and how much of a certain beverage she should purchase.
About the Author
Carmen Ren, Product Marketer at Bevi, is passionate about finding solutions for office and facilities managers.
About Bevi
Bevi is on a mission to bring flavors, fizz, and eco-friendly fun to offices, schools, hotels, cafeterias, and other large spaces. Learn more about Bevi here.