by David Strydom — The many ways software is helping FMs be more effi cient
With respect to adopting building information modelling (BIM) and cloud-based technologies, Manchester City Council (MCC) likes to think it's among the most forward-thinking councils in the UK. And to prove it, its FM department recently started integrating BIM, ArtrA, E-documents and Concerto on the town hall complex transformation programme for asset and property management.
Indeed, any project that sees three separate software houses working collaboratively to produce a solution is likely to be noteworthy. It is currently in progress and has already had partial handover of information using the E-documents web-based system, connected to the model and CAFM system.
During a presentation at the BIM conference at the Crystal in London, those involved showed the collaborative data tripping of information as it flows from one system to another to create 'a true operational BIM resource'. In a nutshell, it worked like this: Laing O'Rourke is MCC's delivery partner; E-documents was appointed by Laing O'Rourke for producing record documentation; MCC uses ArtrA software to link data to BIM and Concerto CAFM software to maintain asset and property data.
The use of BIM wasn't a contractual requirement but the council was persuaded BIM could also deliver benefits in the FM phase. Since many aspects of BIM were used for design, construction, costing, planning and health and safety management, the council was able to use the resource for FM. The use of BIM has created what the companies describe as a positive legacy by using the project team's BIM data to drive benefits during the operational life of the complex.
Concerto sites incorporate areas of total property asset management including facilities and property helpdesk, statutory compliance management, estates management; property survey management; and project and programme management.
Manchester City Council isn't the only organisation using software for its FM department. TCSJOHNHUXLEY, a player in the provision of casino equipment, has selected mplsystems to implement a next generation field service management solution to help optimise the performance of its European customer service and support operations.
The mplsystems solution integrates customer contact, service management, parts management and engineer scheduling activities, and will, the company says, support TCSJOHNHUXLEY in improving customer service levels, optimising engineer utilisation and increasing the visibility of key service metrics across the broader business.
The solution integrates mplsystems' Cloud-based iContact multi-channel contact management technology, iMobile apps for customer self-service and field service mobile communications, and integrated workflow, multi-language support and analytics to provide TCSJOHNHUXLEY with a platform to manage its Europe-wide customer services process — from the point of customer interaction to fault resolution.
But does software really make the FM's job easier? Three experts approached by PFM agreed that it does. CAFM is essentially the management and communication of data and the facilitation of business processes, says Scott Stonham, MD of Ovasto. "The efficiencies provided by existing CAFM include better communication, improved management controls, accurate performance measurement, reduced duplication of work, statutory compliance, risk reduction, and more efficient processes and workflow."
With the maturing of Cloud technology, today's challenge is finding additional efficiencies through CAFM, Stonham explains. "Collecting real-time data directly from source and using business intelligence to analyse the data will enable communication of the right information to the right people at the right time. Simpler and more intuitive user interfaces will reduce training costs and increase accessibility. CAFM implementation costs will be reduced and integrated business processes with customers and external suppliers will improve."
He adds that modern CAFM systems make FM service more efficient by allowing assets, employees, suppliers and customers to communicate and manage data seamlessly between disparate systems and to enable true integration of inter-organisation business processes.
Steve Bignell of Verdiem says that when it comes to securing commercial energy savings, it's surprising how many organisations seem content to ignore potential energy savings that are just waiting to be secured. "It's estimated PCs, laptops and monitors account for 31% of all IT device energy consumption," he says. "Using specialist IT energy management software you can save 60% of that cost. When you're an organisation with thousands of PCs, that can start to make a real difference."
Start factoring in additional IT devices such as network equipment, telecom systems, servers and printers, and the numbers start adding up and become harder to ignore, Bignell explains. "Effective IT energy management however becomes even more interesting when you start integrating with a broader energy management infrastructure to look at energy saving across an entire building or property estate."
He says Verdiem has been working with partners such as Cisco and Schneider Electric to put this into practice — 'indeed a recent Portuguese Schools project unlocked overall ICT energy use savings of about 25%, along with optimised energy use of HVAC and lighting systems. When it comes to effective FM, it certainly makes sense to adopt a more integrated CAFM approach'.
While the responsibility for FM tasks often sits with the head of estates or facilities, the impact of inefficient systems often extends much further, says Emma Parker, marketing executive at Excitech. "It can even restrict on an organisation's ability to achieve operational objectives and is often reported on across the entire board of directors.
"It is this understanding, along with the knowledge that as much as 75% of a building's lifecycle costs over 30 years can sit within operations (compared to 25% in design and construction), that organisations deploy CAFM systems. When preparing a business justification, organisations cite several items as primary drivers for introducing CAFM systems."
These items include greater insight and improved decision-making as a result of better information, reduction in lengthy and costly manual exercises associated with manual processes, reduced manual interaction and administration, and improved ability to manage assets and planned maintenance resulting in improved performance, reduced downtime, disruptions and waste.
Other items include improved ability to achieve compliance, improved storage and access to essential documentation such as property leases, and inspection certificates and O&M documentation.
"As the benefits associated with BIM are obvious for those involved in design and construction, there are also benefits to owners and operators who can significantly reduce data collection, data updates and data accessibility costs," says Parker. "With this in mind FMs looking for even greater efficiencies must look to BIM for the future."
This is something being repeated in many sectors of the industry. You only need to look at Service Works Group's software poll in collaboration with the FMA and i-FM (box, right) to note that FMs' views on BIM — and how they are implementing it or using it in strategy — is seen as an important indicator of their uptake of new technology.
CASE STUDY Fulham Road Collaborative
ISS provides thousands of hospital patients with their hot meals every day, as well as feeding visitors and keeping the wards clean. The company wanted detailed feedback from its customers across the three hospital Trusts forming the Fulham Road Collaborative (FRC) and brought Customer First Solutions (CFS) on board in August 2012 to advise on the best solutions currently available.
Finding paper surveys a slow and unengaging way of collecting their patients' views, ISS, which employs more than 700 staff across the five sites of the FRC, wanted to radically change the way it collected feedback. The company, which decides everything from what the patients are served for lunch to how often the toilets are cleaned, needed technology that allowed it to gather a large amount of information, quickly and easily. But most importantly, it wanted to engage patients in a way that made them feel comfortable enough to share their feelings.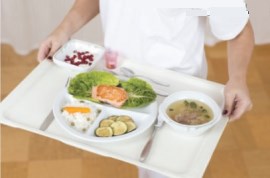 ISS chose to use CFS' Prism software on seven iPads across the trusts. The portable devices are said to have helped staff move quickly around the hospital and easily engage the patients. By having proper two-way conversations ISS found patients were more willing to voice their feelings. The company said it was more effective and environmentally-friendly than leaving a pile of forms at reception.
The user-friendly software was flexible enough for ISS to note patients' concerns and queries without having to stick to a rigid structure of questions which, it says, allowed honest and open feedback. The flexibility of the Prism software may benefit ISS, enabling the iPads to be used for multiple purposes, such as logging dinner orders, which are currently taken using paper forms.
The information on the devices could be downloaded and automatically collated into an easy to search and read format allowing the ISS team to act on customer concerns immediately. For example, if a patient mentioned they wanted someone to get rid of the fingerprints on the window, the team could have a cleaner on that ward the same day.
About 700 patients were questioned by ISS between August and December 2012, a 300% increase on the feedback previously recorded over a comparable period using paper feedback. The information collected was also more detailed and highlighted many things that wouldn't have been touched on if left to patients to manually fill in paper questionnaires.
ISS says it found most of its feedback was positive, however using CFS it identified issues which it was able to quickly address to improve its services. The company is planning on increasing the number of staff carrying out the surveys to ensure this cycle of improvement continues and even more patients are engaged in providing their expert feedback.
Simon Lau, ISS healthcare's patient experience and quality manager said: "I don't think words can describe the difference between using CFS and paper systems. The amount of time saved is phenomenal. It's easy to look at the way your company is operating and think yes all the boxes are ticked, but you don't actually know that everything is being done to the highest standards unless you ask and really engage your customers.
"I know there are other systems. But for our use, this one is groundbreaking because of its flexibility and efficiency. There are no limits to how you use the system. In theory we could adapt it to use for every system we do – there is huge potential in how we can use it across the company. I think the tool is fantastic and I think CFS as a company is also very good. Its level of customer service is fantastic."