by Brett Allen —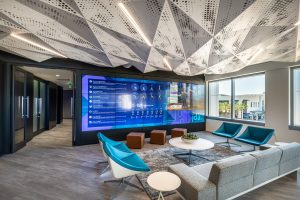 Living and breathing technology is key when you're the world's leading supply-chain software provider. To make your customers feel confident, it must look and perform seamlessly. When JDA Software decided to embrace the trend of building a client experience center for their headquarters in Scottsdale, Arizona, they knew it had to be a high-tech, "wow" experience.
"In the technology space, it's always a race to come out with the next big thing," explains JDA's Tom Mulherin, Vice President of Business Administrative Services. "We have a lot of very talented people coming up with new products all the time – we needed a space where we'd be able to showcase the technological lead we have over our competition."
Tom and the JDA project team work with the design firm Corgan on many of their projects. For this vital client-facing space they decided the Corgan designers should first attend JDA's annual corporate conference. "We really immersed ourselves in their world to understand what this experience center needed to portray to clients," said Karah Tennyson, a senior associate at Corgan. "We knew it was going to require unconventional construction, something that offered flexibility to change with technology as it changes."
I knew in my gut from the get-go
Tom was in full agreement with their assessment. "This cannot be a fixed-use space," he explained. "It's got to be multipurpose. As technology changes, we need to incorporate it at very little cost."
Drywall, face-mounted screens and hardwired power and data just wouldn't cut it. "We started looking at what was out there to solve all our challenges," said Tom. "And that's what brought us to DIRTT." Karah at Corgan concurred. "I knew in my gut from the get-go that DIRTT was right for this project."
JDA and Corgan tapped Corporate Interior Systems (CIS), a local DIRTT Partner in Phoenix, to start a deeper exploration. Asa Plum is an architect and on the DIRTT team at CIS. Asa listened to what Tom was looking for and organized at trip to the DIRTT headquarters in Calgary. "Tom's built workspace for a lot of different tech companies over the years. He's a guy who's hard to impress," said Asa. "He wants to meet the people on the line, the people actually doing the R&D."
"Not only was the technology superior to anything else we had seen, but it was the culture I saw at DIRTT," said Tom. "It was very akin to the culture we have here at JDA. We're very collaborative. We're always trying the next great thing that's coming around."
The trip to the factory included virtual reality sessions. As soon as the whole team had their goggles on, they realized they were inside the model as avatars. They experienced their first views of what the JDA Experience Center (JXC) could look like built with DIRTT and started developing the design together in real-time.
Like all virtual reality experiences, the ICE® software at DIRTT gives stakeholders an immersive 3D tour of their design. What differentiates the ICE platform is the live data built into the virtual experience. Everything required for simultaneous, precise pricing, engineering, manufacturing and construction is inside the virtual images. As the team went from room to room as avatars, they made changes to the design and instantly saw the effect on everything from budget to constructability.
He's a guy who's hard to impress
Once back in Scottsdale, the other vital partner on the project was contacted: The A/V implementer. JDA went to Immedia, a vendor they've worked with before. Immedia is considered the premiere full-service integrated technology company in the southwest. Their expertise is audio-visual and control systems and low voltage appliances such as network connected devices, access control, building and sound systems. Zach Toporek is a sales engineer at Immedia. "What typically happens to us is: The entirety of the project gets designed," explains Zach. "Then right before they start building, somebody says, 'Oh, wait. We need some A/V.' The beauty of this project was that it was very concept driven."
The custom prefab interiors are designed and engineered to integrate any current, legacy and future technologies. "Working with the DIRTT team was great," said Zach. "It was just as easy as saying, 'This is the technology we want to apply in these spaces. Here's the spec sheets. Here's an elevation.'"
The Immedia team used DIRTT's ICE software platform to test ideas and receive feedback in the moment. "It was like, 'this is going to move,' or 'the dimension of that are going to change.' Done!" Zach said as he snapped his fingers. "It was happening in real time in these collaboration meetings."
Another piece of the technology puzzle is lifecycle. The speed in which it goes out-of-date is breathtaking. Since tech is the exact thing JDA is a leader in, their real estate needed to keep up with their hardware. "A lot of times, people sell you something, and they say, 'It's plug and play,' And it's not." says Tom. "When we went to see DIRTT in Calgary we made sure that it was going to be something we could maintain ourselves afterwards." While on the factory trip, Tom asked to take apart a wall they happened to be passing on the tour. He was handed the tool for the job. "If I can do it, anyone can do it," he said after disassembling and rebuilding it by himself.
Asa recalled, "Tom's exact words were, 'I want it to be like a spaceship – like nothing else the clients have ever seen.'"
The team at Immedia is also happy they won't have to have drywall to tear into when their components need maintenance. "With DIRTT, they pull off a pane of glass in front of the display. I and get in there, service it," said Zach. "They slap the glass back on. It doesn't get a lot easier than that."
I want it to be like a spaceship
Another interesting challenge came up when JDA talked to their landlord. Though the software company was one of the first tenants in the building, this experience center was going in the last vacant space. Below it is a trendy retail store with high TI costs. So JDA couldn't core for their IT cabling. Suddenly an access floor was a priority. One that wouldn't affect ceiling heights or the feel of the JXC. DIRTT's low-profile access floor provided a solution that worked in tandem with DIRTT plug & play power and networks. "The raised access floor offered us the flexibility for future proofing for the space," said Karah.
While future flexibility was important, the initial construction had to come in line with the budget and schedule. The JXC includes large and small meeting rooms, tiny private rooms for clients to make calls, a large reception area, 12 multi-media walls, two kitchens and a 30-person board room. It was a complex project with high expectations from the get-go.
The general contractor on the project is Jokake. They're one of the Contractors of the Year in the southwest. Even with their experience, the Jokake site superintendent knew this build would require a considerable amount of coordination and a new kind of thinking. "I actually had to gear up my contractors," said Carl Politico, Jokake's site-superintendent. "I told them, 'This could be the way of the future. After this experience you'll know what to do next time a DIRTT system is incorporated into the buildout.'"
Sub-contractors, like the flooring team at Wholesale Floors, were the first to embrace the new method over conventional construction. As soon as the access floor is down they go to work, laying the floor finish in a wide-open space, rather than coming in at the end to cut around all the walls and floor boxes. "Our crew's happier," says Wholesale Floors Director of Sales, Brad Bergen. "There's not as much detail work involved. They're much more efficient in their costs. They make more money. We get to keep our schedule shorter. It's a win-win."
This could be the way of the future
The JXC is up and running now. It's already it is making a difference for the company.  finding deals are closing faster and there's more excitement about JDA in the market. Even when they're inviting C-level people to Scottsdale when it's 110 degrees, JDA finds the space encourages them to brave the desert summer temperatures. "If we had tried to do this project with drywall and ceiling tiles it wouldn't have had a tenth of the effect that it's had on people," said Tom. "One of the comments made to me after the opening was 'this is going to be a game-changer for our sales force.'"
See the video case study of the JXC.
Brett Allen got hooked on tech since his Solar Powered iPod backpack in middle school and has led DIRTTs Technology Team since 2013. With an expertise in Architectural Technologies he advises on innovative and experience-based technology elements built into the environment for DIRTT and their client base. His favorite piece of tech is his "Mr. Coffee" warmer that always keeps his morning cup o' joe at the perfect drinking temperature.
DIRTT stands for Doing It Right This Time. Using real-time 3D software DIRTT clients experience their space, make modifications and get instant pricing, engineering and constructability. Once signed off, the project is manufactured in 21 days or less. Construction is clean and fast. The space provides ongoing adaptability for the occupants. See more at www.dirtt.net.