by Fabio Vitali — Originally published in the June 2017 issue of ISSA
By now you've likely heard of the triple bottom line (TBL), otherwise known as the three Ps (people, planet, and profit). This framework proposes that companies can no longer focus solely on economic growth without considering the social and environmental impacts. The TBL can be a helpful tool for managing and improving an organization, including at the restroom level.
Visited by guests and employees on a daily basis, a restroom serves as a reflection of the state of the business. If a restroom flushes too many natural resources and products down the drain and lacks good hygiene, it can negatively impact the environment and a brand's image. To connect restrooms to your TBL goals, it's important to consider how restroom hygiene affects the three Ps.
People
A business can't exist without customers, so ensuring the health and satisfaction of the people that keep it thriving is a key component to achieving a healthy TBL. According to a survey by Cintas Corp., 94 percent of customers would avoid a business in the future if the restrooms were not clean.  Additionally, 80 percent of respondents agreed that paper towels and toilet paper on the floor was a sign of a dirty restroom. Unpleasant odors, overflowing trash cans, and sticky floors were also major factors impacting guest perceptions.
Restrooms often harbor germs like norovirus and E. coli, which are easily transmitted by wet hands and surfaces. To prevent the spread of infection and protect customers, facilities should clean frequently and provide effective solutions for hand drying.
Air dryers may sound like the most hygienic and sustainable option, but a recent study by the University of Westminster shows this may not be the case. The study found that some jet dryers, due to their high speed and construction, can spread viruses on wet hands 60 times more than "regular" air dryers and 1,300 times more than paper towels. Comparatively, this particular study found that paper towels dry hands faster, reduce germ transmission, and are preferred by customers.1
When selecting towels, service provider and facility managers should work with a paper provider that uses sustainable practices and ensure that the paper towels are high-quality but also biodegradable.
Did You Know?
The inhabitants of ancient Rome had a Toilet God: 'Crepitus'
Urine on a toilet seat is a pretty sterile liquid.
Most American toilets flush in the key of E Flat.
Your smartphone has about 20 times more bacteria than a toilet handle.
Planet
Commercial buildings consume more than 88 percent of the potable water in the United States, and plumbing fixtures account for 47 percent of total water use.2 To limit water waste, older toilets that use nearly 5 gallons of water per flush should be replaced with high-efficiency toilets that use 2 gallons or less. Motion sensor faucets are another sustainable solution, conserving up to 70 percent of water in restrooms.3
It's also crucial to consider how much energy a restroom uses for lighting and heating water. To conserve energy, facility managers can install motion sensor lights and update old water heaters to solar powered heaters, which save money in the long run and draw energy from renewable sources.4
The average American uses about 57 sheets of toilet paper per day and 20,000 sheets per year, consuming 384 trees in a lifetime.5 In a large or small facility, the overuse of toilet paper can have a detrimental effect on the environment. It's important to purchase sustainable paper products that dissolve after use and absorb greater quantities of liquid.
When choosing environmentally friendly products, it's important to check percentages on products that claim to only use "recycled" or "organic" materials. Due to a lack of credible certification, "recycled" paper might not contain a very high level of recycled paper so check with your supplier and choose one that can prove its content claims.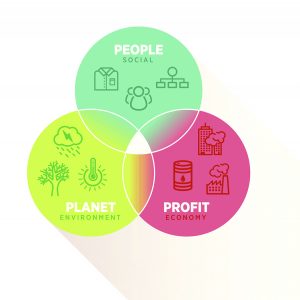 Profit
As previously stated, the condition of a restroom has the ability to either impress customers or make them second-guess a brand and take their business elsewhere, resulting in lost profits. According to a survey by Bradley Corp., 69 percent of American consumers believe an unclean restroom indicates poor management and that the business doesn't care about its customers.
Failing to maintain restrooms can also drive up future costs. For example, if a company provides one-ply toilet paper, customers may be inclined to use (and waste) more product compared to toilet paper that's thicker and more absorbent. Not only will toilet paper need to be ordered more frequently (and dispensers refilled more often, equaling higher labor costs) but the overuse of products could also lead to backed-up toilets or a clogged pipe system. This can require expensive repairs, and potentially, cause a firm to temporarily shutdown.
Strengthening your TBL
The TBL structure helps strengthen your brand by equally considering customers, the environment, and profits. Improving the TBL can be as simple as upgrading low-quality tissue to more durable, dissolvable, and highly absorbent paper products or installing water-saving toilets and faucets.
While creating a greener, cleaner restroom, managers should show customers and employees that attention to detail isn't lost in restrooms. Look for elegant and simple dispensers, sinks, and other decorations that use durable, environmentally friendly materials. Consider making posters or signs to communicate how the restroom and your brand promotes sustainability.
Maintenance Matters
A new and improved restroom won't strengthen your TBL unless it's properly maintained. Managers must train employees and implement regular cleaning routines to ensure restrooms are always stocked with essentials like toilet paper, soap, and paper towels and that floors, mirrors, sinks, and toilets remain spotless. Trash receptacles should be frequently emptied, and employees should ensure that doors, faucets, and dispensers are functioning. Additional maintenance, like lowering your water heater temperature by a few degrees, is another significant way to meet your TBL goals.
By focusing on restroom hygiene, companies can improve their TBL and create restrooms that do good in more ways than one.
Fabio Vitali is vice president away-from-home marketing and sales for The Sofidel Group, a privately held manufacturer of paper for hygienic and domestic use. For more information, visit www.Sofidel.com and www.papernet.com/americas.
Sources: Jujufeed.com