by Brianna Crandall — December 31, 2012—The U.S. Green Building Council (USGBC) has awarded its highest green building rating, LEED Platinum, to what is reportedly the nation's largest and most aggressive energy savings project of its kind: a 540,000 sq. ft. mixed-use property in Boston's dynamic South End community. The Castle Square Apartment complex includes four seven-story mid-rise buildings and 19 townhouse buildings, for a total of 500 housing units.
According to the Castle Square Tenants Organization and WinnCompanies, the renovation represents a historic milestone toward reducing the carbon footprint of existing buildings. A portion of the property, the 192-unit midrise, is the site of what is said to be the largest deep energy retrofit on an existing affordable housing community ever undertaken in the United States, expected to slash energy usage by 72 percent. A deep energy retrofit is defined as a renovation with energy savings greater than 50 percent.
Energy improvements were made as a part of a comprehensive property-wide green renovation. Highlights include a vibrant street façade and retail promenade on Tremont Street, and the construction of a community center, where Castle Square Tenants Organization will expand its program offerings.
According to the property's retrofit Web site, the key difference between Castle Square Apartments and standard energy efficiency renovations is insulation, which at Castle Square is now located on the outside of the building since it was not part of the original construction plans. A new super-insulated shell (which visually transformed the property), combined with a super-insulated reflective roof, high-efficiency windows and extensive air sealing, has reportedly increased the insulation value of the building by a factor of 10.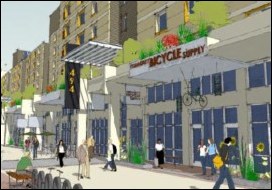 The result of the improvements was a building that requires only a fraction of the energy to heat and cool. Additional energy savings were made using small high-efficiency cooling and heating equipment, light-emitting diode (LED) and compact fluorescent (CFL) lighting, Energy Star appliances and solar hot water. Residents were able to remain in their apartments during construction since the project focused mainly on implementing isolated systems.