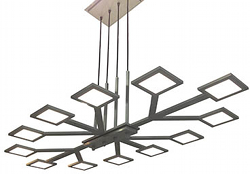 by Shane Henson — June 13, 2012—WAC Lighting, a New York-based manufacturer of decorative and architectural lighting, recently released its Vela Organic LED chandelier as well as a matching OLED wall sconce.
The Vela OLED Chandelier is defined by a dramatic contemporary profile laser-crafted of aluminum, with 12 OLED (organic light-emitting diode) panels that illuminate surfaces below, and 12 additional OLEDs that shine upward to render a soft ambiance that evokes a lighter sense of space and visual comfort, says the company. The chandelier delivers a high light output of 2,040 lumens while offering a color rendering index (CRI) of 80 and an efficacy of 35.2 lumens per watt. The luminaire features a total of 24 OLEDs with a correlated color temperature (CCT) of 4000K while using just 58 watts of power. Aircraft cables suspend the chandelier from the ceiling, with a height adjustment up to 36 inches.
The Vela OLED wall sconce is designed in a unique decorative aluminum profile with six sophisticated OLED panels on its perimeter. Four square panels are connected in the center, by cross-shaped arms that are attached to two OLED panels on the ends. Housed within this exceptionally thin luminaire, the panels provide a wide, even illumination without glare. Perfect for use in hallways or as a decorative focal point, the brushed aluminum finished sconce uses 16.4 watts with OLED panels offering a 4,000K CCT (Correlated Color Temperature), a Color Rendering Index (CRI) of 80, and an efficacy of 31.1 lumens per watt while delivering 510 lumens. With a depth of merely 2.25 inches, the sconce is 24 5/8 inches long and 13 inches wide.
Inherently sustainable and precision engineered, the luminaires are individually crafted with the world's most revolutionary light source in WAC's wholly owned, zero-landfill manufacturing campus, says the company. With instant on/off and dimming capabilities, the Vela family delivers mercury-free, consistent beams of light without glare and a 10,000-hour rated life. The OLEDs are uniformly luminous and evenly spaced on the luminaires with utility, proportion and style, adds the company.
Options include new materials and independently controlled micro-LEDs on a single circuit to enhance light intensity.