by Jessica Bates — Originally published in the May/June 2016 issue of BOMA Magazine — "I'm the canary in the coal mine," says Barbara Ciesla, senior vice president at JLL in Toronto. For years, Ciesla has worked to promote sustainability in commercial real estate, but whenever she participated in discussions on energy management or green building materials, she always felt something was overlooked: the impact on the building's occupants. "I've had rheumatoid arthritis since I was two years old, and it's made me acutely aware of how my environment affects my well-being," she explains. Everything from what she eats to changes in barometric pressure can trigger inflammation and pain for Ciesla, which has helped her immediately understand the benefits of the newest big trend in commercial real estate: occupant wellness.
Twenty years ago, commercial real estate was just beginning down the road of environmental sustainability, and the idea of certifying a building was a new concept. Now that LEED® is a household name, benchmarking through ENERGY STAR® Portfolio Manager has become commonplace and BOMA 360-designated properties dot skylines around the world, industry leaders are beginning to go one step further. The concept of sustainability is being expanded to include an emphasis on how the built environment is affecting the health, mental well-being and productivity of tenants. More and more buildings are offering healthy food, fitness centers and other amenities designed to boost employee morale, such as outdoor seating areas.
In line with this trend, the WELL Building Standard®, the first building standard focused exclusively on human health and wellness, debuted in 2014. The standard covers 100 strategies for improving occupant health in seven different categories: air, water, nourishment, light, fitness, comfort and mind (see diagram below). Tenant spaces or even whole buildings, depending on the certification type, must meet strict operational and performance requirements, which govern everything from what food can be served at meetings to the wall-to-window ratio to whether employees are given paid time off to participate in volunteer activities. The International WELL Building Institute (IWBI), a subsidiary of the company Delos, administers the standard. IWBI boasts a body of research backing up the health benefits of these strategies designed to increase occupant comfort, reduce workplace absenteeism and, perhaps, even boost employee productivity. Some experts have even begun referring to it as "LEED for people."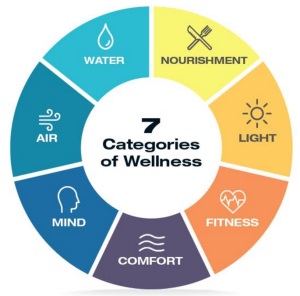 In the less than two years since the WELL Building Standard was first launched, it seems to be gaining traction in the industry. CBRE's corporate headquarters in Los Angeles was the first office to become WELL CertifiedTM through the WELL pilot program, and the commercial real estate giant recently committed to putting at least 100 building sites or offices it manages or occupies through the certification. A number of other companies—including JLL and Kilroy Realty Corporation—also have begun dipping their toes into the WELL water with certification projects of their own. Particularly in competitive markets where LEED Platinum certification hardly raises an eyebrow anymore, WELL certification may be a powerful draw for prospective tenants looking to increase employee recruitment and retention, among other benefits.
JLL's Ciesla was one of the first people to take an exam to become a WELL Accredited Professional, a credential so new that, until recently, it was only provisionally awarded. She most recently completed work in support of TD Bank Group's pursuit of WELL certification for a floor in its corporate headquarters in downtown Toronto. "The commercial real estate industry has done amazing work towards greater efficiency and minimizing environmental impact, but at the end of the day, our buildings are built for human occupation," Ciesla says. "We, as an industry, are opening our eyes to how we also can affect and support the health of the people inside the buildings."
Getting Well
When describing the WELL Building Standard, many people naturally draw comparisons to LEED, including Dave Pogue, global director of Corporate Responsibility for CBRE. "Eight years ago, CBRE made a commitment to get 100 buildings LEED-EB certified at a time when there were fewer than 60 of those certifications for existing buildings in the world," Pogue says. "We understood then that sustainability was where the market was headed, and we firmly believe that's happening with wellness now." And, it is clear that WELL benefits from the success of LEED in the marketplace: IWBI estimates there is between a 15 and 25 percent overlap between WELL and LEED, making it significantly easier for buildings that are already LEED certified to pursue WELL. However, Pogue does identify one major difference: "People weren't calling me to ask about LEED the way they're calling me now to ask about WELL. There is an enthusiasm and demand for wellness in the marketplace that took years to build for sustainability."
Like LEED, WELL is awarded at three levels: Silver, Gold and Platinum. The standard can be applied to three types of projects: New and Existing Buildings, which requires that a single tenant occupy at least 90 percent of the building; New and Existing Interiors, which applies to any tenant space; and Core and Shell, which is designed to help facilitate the first two types. This means that, while property managers and building owners certainly will have a role to play, tenants are likely to drive the process.
There are four main steps for obtaining WELL certification, and the length of the process can depend on whether or not significant changes need to be made to the space. Spaces are first "registered" with IWBI, which begins the process; buildings and tenant spaces can stay in the registration phase for up to five years. The next step is to submit documentation, including design, lighting and mechanical drawings; operations schedules; and policy documents, such as employee handbooks. After that comes performance verification, during which Delos consultants perform a variety of tests on the water, air, noise levels, temperature and lighting. These tests are exacting, demanding air quality, for example, far above the standard required by ASHRAE. If the space passes these tests and everything is deemed in order, certification is awarded for three years. After three years, the tenant must go through the recertification process to remain certified.
Unlike the other two certification types, the Core and Shell certification looks at the fundamental aspects of the building, including the building structure, water quality, window placement and HVAC system. When incorporated into the design of a new building or a significant retrofit—particularly if that building is already being built or retrofitted to LEED or LEED-equivalent standards—accommodating the tenant-driven certification may be relatively easy and inexpensive. Decisions that may be a minor inconvenience during the development stage (such as leaving space for optional carbon air filters in the ventilation system) are likely to become more complicated if a space is being specifically altered to the standard later. Even if an owner is unsure about becoming WELL Core and Shell certified, it still may be wise to incorporate design elements that will help to facilitate the certification later on if a tenant requests it.
The Benefits of Well
Though the primary burden for WELL certification does fall on the tenant, the property management team may be called upon to provide building documents and assist with the testing process. If a space fails, say, a water quality test—which may be indicative of a building-wide problem—then the property management team likely will need to work with the tenant to determine the issue and find a solution. Nonetheless, those on the CBRE headquarters project team say that IWBI has made the process as painless as possible for those involved, which is why they also feel comfortable recommending the WELL certification to their clients. "One of the first questions we asked was, 'How much work will this be for our team? For our property manager?'" explains San Francisco-based Emily Neff, project manager for CBRE's Workplace360 program, an internal initiative for improving CBRE workplaces being rolled out across CBRE's portfolio. "When undertaking the WELL process for our headquarters in Los Angeles, we found that IWBI has been very focused on not creating extra work for those who operate the space." Delos consultants offered advice during the development process, managed the testing themselves and gave specific feedback on what changes to make.
This was part of the reason CBRE decided to pursue the WELL certification during the design and development phase of the firm's new corporate headquarters. The eccentricities of the downtown office building that CBRE chose, which included a significant glare problem due to the angle of the building and a large atrium that couldn't be used as office space, had left it vacant for 20 years. However, the variety of spaces and an emphasis on natural light made the space a good choice for CBRE. Like many of its tenants, CBRE was transitioning to a type of open office layout—all areas are shared, but employees have access to a variety of workstations depending on their needs, including private, collaborative and social spaces. This type of layout tends to be a good fit for WELL, as it may be easier to control air quality and provide access to sunlight in one open space rather than many small offices.
CBRE already had been focusing on employee well-being—primarily through its Workplace360 program—and several employees who worked out of the Los Angeles location were vocal supporters of healthier initiatives, which helped to drive the project. A concern over how closely shared spaces would impact employee health led, in part, to the decision to incorporate WELL midway through the design and development process. Consultants specializing in WELL became involved, examining the design plans and making suggested changes. "If we'd started with WELL from the very beginning, it would have been simpler," admits Lenny Beaudoin, senior managing director for Workplace Strategies at CBRE. "We weren't planning to make some of the infrastructure changes that were required to meet the air quality standards, for example. We certainly don't regret making those changes, but it's always easier if you can factor everything into your budget and schedule from the start."
Each of the seven categories of the WELL standard have helped transform the CBRE office. The air is enhanced with a special filtration system and the carbon dioxide levels are carefully monitored throughout the day. Filtered water is available within a few steps of each workstation to help employees stay hydrated. Only healthy snacks are provided (though employees are free to bring in whatever food they like), and CBRE offers nutrition education advising employees how to make healthier choices. The office features a "circadian lighting system" designed to mimic natural sunlight levels throughout the day. Treadmill desks and stretching areas are available to employees who want to improve their fitness. Acoustic dampening keeps sound at a comfortable level. More than 1,000 plants placed around the office help boost air quality, while also providing a pleasant boost to the mental well-being of the employees.
The project team has been surprised by which elements have proven most popular with the staff. "People loved the easy access to filtered water. That came up again and again in the post-occupancy surveys we conducted," Beaudoin says. Not everything proved an immediate success; the treadmill desks, for example, are not widely used. Nonetheless, the new office design has allowed employees to incorporate more activity into their day in a relatively painless way. "We've found that most people have really enjoyed having the opportunity to use the stairs between floors as a way of adding in some additional steps into their daily routine," he says. The office also is designed to encourage workers to walk to get what they need. For example, while water is in plentiful supply throughout the office, there's only one place to get "a really good cup of coffee." This can turn coffee breaks into a chance for employees to clear their heads and say hello to their co-workers.
After working within the new space for a year, more than 90 percent of CBRE employees say that the new space has had a positive effect on their health and well-being, their ability to collaborate with others and their business performance. More than 80 percent reported feeling more productive. Anecdotally, employees have reported feeling less tired at work during the darker winter months and being inspired by the changes in the workplace to make positive changes in their own lives.
"You can argue over whether any one of these individual changes is absolutely necessary, but the overall effect is hard to deny," says Neff. "If you tell people that you're investing in their health and you give them a beautiful space to work, it makes a real difference."
And, people are ultimately what the standard is about. Paul Scialla, founder and CEO of Delos and founder of IWBI, explains, "With a growing body of research demonstrating the environments where we live and work can have a direct impact on our well-being, from our sleep/wake cycles and mood to productivity and performance, it is becoming increasingly important to place people at the heart of design and construction, operations and development decisions." Exactly what it means to put people first and what power these spaces have is what IWBI is working to uncover for the industry.
CBRE's Beaudoin points to another reason why WELL may be the future of the industry: convincing people to come to work. As telecommuting becomes more common and increased densification can make offices a more challenging place to work, designing an appealing workplace can make a big difference to a company. "If a work location isn't helping someone live a more productive and balanced life, then employees are not going to want to spend time there," he says. "What we're hearing is that our employees prefer to get work done at our Workplace360 offices, because it's more efficient and they feel good while they're here. They feel like we're providing a service—not forcing them to come into the office every day."
The Business Case for Wellness
If there is a drawback to comparing WELL to LEED, it's in discussions on the return on investment (ROI). With LEED, commercial building owners often were guaranteed energy and water savings, which were easy to track and report. WELL has a much harder case to make: that designing an office for wellness will make the employees of tenant companies happier, healthier and more productive—which can indirectly benefit the building owner.
IWBI has been working very hard to prove the business case for wellness, providing scientific findings, and Delos has collaborated with the Mayo Clinic to create a Living Lab to test out its strategies. Many companies are relying on employee surveys to measure outcomes. Nonetheless, there are significant challenges, JLL's Barbara Ciesla explains. "There's no 'true' way to measure productivity, and even if the workplace is having a positive effect, there are so many other factors that might disrupt that," Ciesla says. "You can have a perfect building, but if you also have a terrible boss, then employee morale is still going to be bad."
Even so, there is real incentive to try. Ciesla cites a JLL concept called the "3-30-300" rule. An average company typically spends a ratio of about $3 per square foot per year for utilities, $30 for rent and $300 for payroll. Any small reduction in payroll costs has the potential to make a much bigger difference to a tenant than a reduction in utilities costs—especially now that commonplace sustainability practices already have lowered these costs considerably.
IWBI founder Scialla echoes this sentiment. "Physical workplace is one of the top three factors affecting performance and job satisfaction. Personnel costs significantly outweigh the costs for design and construction and maintenance and operations," he says. "Addressing occupant health channels resources towards reducing the largest line item in the 30-year costs of a building—personnel—offers a meaningful return on investment."
Tenants may indeed reap significant returns in terms of fewer sick days and happier employees, but for building owners, the benefits are less obvious, especially with the concept of wellness in commercial real estate still in its infancy. Early adopters have pointed to the enthusiastic interest from tenants as an indicator of market value, particularly in more competitive metro areas. The promises of a building where they easily can pursue the WELL certification may lure big tenants, happy to pay a premium for these spaces. And, once they've become accustomed to optimal conditions, they may be less likely to relocate.
Sara Neff, senior vice president of Sustainability for Kilroy Realty Corporation, has been working on WELL projects in both the commercial and residential sectors. She says those in the industry interested in wellness can learn a lot from the evolution of environmental programs in commercial real estate, from ad hoc to formal. "For a long time, real estate owners were doing 'random acts of sustainability' that didn't have a formal structure or focus, and I think many owners are in that phase with wellness now."
The WELL certification may provide the necessary framework to move the industry forward on wellness. Rather than focusing on specific guarantees of ROI, Kilroy's Neff says, a better way to frame the conversation may be to focus on how creating a wellness-focused space removes some potential barriers to the productivity and wellbeing of tenants. "I can't promise that all your employees are going to be healthy and productive, but in a WELL-certified building, it won't be the air quality that's causing problems," she says. In other words, an emphasis on wellness can set tenants up for success—and building owners and managers can be partners in that success.
One such partnership exists between the American Society of Interior Designers (ASID) and Carr Properties. Currently, ASID is going through the WELL certification process for its future headquarters, which will be located on the ninth floor of a downtown Washington, D.C., office building owned and managed by Carr Properties. In fact, the new ASID headquarters is expected to be the first WELL-certified space in the District of Columbia. ASID decided to relocate its headquarters to Carr Properties' Columbia Center when searching for a new office space because it was well-suited for the certification: The building is less than 10 years old and already boasts LEED Silver status, so it did not require any major retrofits.
It also helped that the team at Carr Properties was well-equipped to handle the requirements. "Being sustainable is already built into our company's philosophy, and, to us, wellness is an extension of that," explains Rich Greninger, vice chair of Operations at Carr Properties. "The WELL certification process did come with a few new space requirements that we hadn't seen before, but these criteria didn't dramatically change our leasing process, and we were happy to help contribute to the success of ASID's project." In the end, the majority of the requirements affected only the tenant space, and most of the cost was covered by the tenant build-out allowance. For their part, the Carr Properties team did make a few changes elsewhere in the building to assist with ASID's certification process, including modifications to the water filtration system and adding a walk-off system to Columbia Center's entryway to keep harmful particulates from entering the building.
Other commercial real estate companies may want to consider how pursuing this certification may help strengthen the relationship between a tenant and the building owner and management team. "We're at a point in the industry where owners and managers have done a lot to make their buildings sustainable, but tenant behavior is a big component that we don't have much control over," Greninger says. "If we can get our tenants thinking about how the building works and how we can optimize it, that's in everyone's best interest."
Likewise, ASID's CEO Randy Fiser says that tenants rely on the property team for critical information and support during the WELL certification process. "When we were looking for space for our new headquarters, we made it very clear that the certification was a priority, because we knew we'd need the support of the building owner and management team," he says. This is because building staff needed to provide access to certain parts of the property so that tests could be run, for example. "We need more information and access than most tenants," Fiser adds. "Having a strong line of communication with our property management team is absolutely essential."
Be Well-Versed
Property professionals certainly should take the time to familiarize themselves with   the latest wellness research, and also get a sense for how the WELL Building Standard's requirements would work within their properties. The standard's documentation and requirements are available on IWBI's website—and what's included can be surprising. Not every space is likely to be a good candidate for the certification. For example, CBRE will not be certifying a second corporate location in Los Angeles—certain aspects of the space made the certification infeasible—but the company still plans to apply as many wellness best practices as it can in that building.
In fact, the strict requirements and the prohibitive costs of the standard (which may be significantly more than what it costs to pursue LEED) may prevent it from reaching larger market penetration in the near future. In most cases, the building owner is responsible for the cost to become Core and Shell certified, while tenants primarily bear the cost of certifying the interior space. Strong tenant demand will certainly tip the scales towards broader adoption, but JLL's Ciesla fears that both tenants and owners may balk at the cost. "I worry that what we're going to see is a lot of early adoption for those who want to be first, but then adoption will taper off if the costs don't align with the marketplace," she says. "But wellness is such an important objective, so I hope it can balance out." Luckily, the standard is still developing, and, by all accounts, IWBI has been highly responsive to the feedback of early adopters.
For those property professionals who want to stay ahead of the market by including more wellness initiatives into their space, but who are not able to pursue WELL, there are many low- and no-cost ways to do so. Kilroy's Sara Neff recommends making a list of what you're already doing when it comes to wellness in your building—providing a gym or offering bike storage, for example—and then picking more initiatives to try from the WELL Building Standard. Other small changes to implement might include opening up the stairwell to allow occupants to walk to their floors rather than taking the elevator; offering free flu shots in your building; hosting tenant appreciation events with a health focus; adding healthier food options to your building café, vending machines or catered events; keeping a bike repair kit at the main desk; or adding more drinking water stations.
Office workers are becoming increasingly health conscious, and tenants are likely to demand more and more amenities around wellness. Property managers also may want to consider testing a building's water and air quality, correcting any issues and sharing the news with tenants. In fact, more than one wellness expert suggested that air and water quality disclosure may, indeed, be something the industry will be facing in the years to come. Regardless, staying ahead of the curve now can help keep a building competitive in the future.
"Wellness in commercial properties has come a long way in just two years, and I personally am very excited to see what this new chapter in the industry is going to look like," adds Neff. "I think the built environment is going to be very different—and much healthier— two years from now."
For more information about the WELL Building Standard, visit the International WELL Building Institute website at www.wellcertified.com and the WELL Building Standard section on the Delos website at www.delos.com/about/well-building-standard/.