by Diane Coles Levine — With more and more baby boomers retiring, C-Suite changes are increasing. According to Forbes Magazine, 72% of CEOs in Americas top 100 companies have held their positions for less than five years, with a median tenure of three years. As Facility Managers, how can we ensure that the mobility programs we develop survive a C-Suite change? After all, most CEOs have their own opinions about workplace design and flexibility programs. Those opinions may not be in sync with our existing workplace strategy. Perhaps for good reason, perhaps not.
Three key elements to surviving a C-Suite change include:
Data and evidence: keep updating the data to support your workplace strategy. If the data doesn't support your decisions, then change or adapt your strategy.
Communications and marketing: it is a continual process. Do not stop marketing your strategy after the move is over. The leverage gained and money saved in your workplace strategy should be carefully documented and communicated regularly.
Evolving your workplace strategy: keep track of the business strategy to ensure alignment with the workplace. Analyze supporting data and improve your strategy and workplace design.
Making Good Decisions with Data and Evidence
We are in the era of Big Data and its growing exponentially. As FMs, it is our responsibility to help executives make informed workplace decisions using data and experience. Workplace leaders in the next 10 years will have to understand data, get data and visualize data to sell their strategies to the C-suite. Understanding the drivers of workplace change or what I call the 5 Cs, as shown in Figure 1: Business Drivers of Workplace Change, helps one comprehend which data is most important to the C-Suite.
The following are the business drivers of workplace change:
Cost
Saving money on real estate and facilities costs is usually the main driver for change
Competitive Advantage
With the war for talent, more companies are using space and workplace flexibility as a talent attraction and retention tool.
Culture
Workplace change can be driven by a desire to change corporate culture for example through a merger or acquisition.
Conservation
Sustainability can be a driver for workplace change and a talent attraction tool
Community
More companies are incorporating the community into their workplace for both brand awareness and corporate social responsibility. This is seen in the health care industry where some institutions are building public community gardens and inviting the community to use their cafeteria.
For most companies, there is more than one driver for workplace change. At SCAN Health Plan, the major driver was 'cost,' 'competitive advantage' was second and 'conservation' third. The CFO, concerned about the bottom line, told the FM team "no new real estate," while the CEO and other executives were concerned about attracting talent such as researchers, nurses and pharmacy staff.
Knowing the CEO's and CFO's motivations enabled the workplace team to focus on the triple bottom line: Profit, People and Planet when developing, selling and re-selling the workplace strategy, as shown in Figure 2: Triple Bottom Line Results.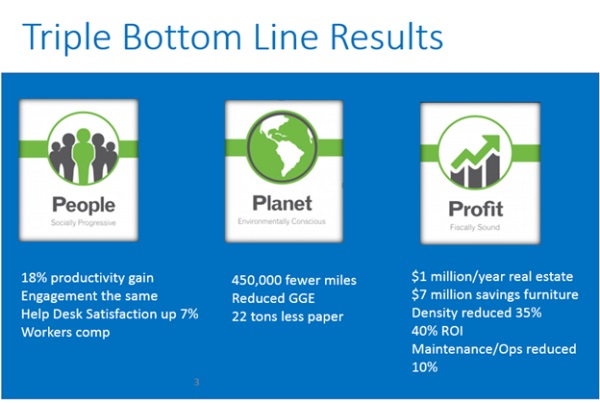 There are many tools available to measure cost savings. At SCAN Health Plan, the FM team partnered with HR and IT and analyzed mobility cost savings for all three departments using a return on investment (ROI) calculator developed by the Futureofwork.net. The project consistently realized a 40% return on investment. With 30% of the staff working from home, the annual real estate savings were just over $1 million. In addition, the new workplace design and provisioning process was achieving a $7 million savings over a 4-year period. Density of occupation was reduced by 35 percent.
For talent attraction, the team measured employee engagement using the Gallup Employee Engagement Survey. Employee productivity of home office workers was also measured as shown in Figure 3: Employee Productivity Measurements. This data helped to dispel the myth, "If I cant see them, how do I know they are working?" The team saw no change in employee engagement and an increase in productivity of 18%. This productivity gain follows research on mobility programs by Global Workforce Analytics, a company with a research library of over 1,000 data points on workplace flexibility.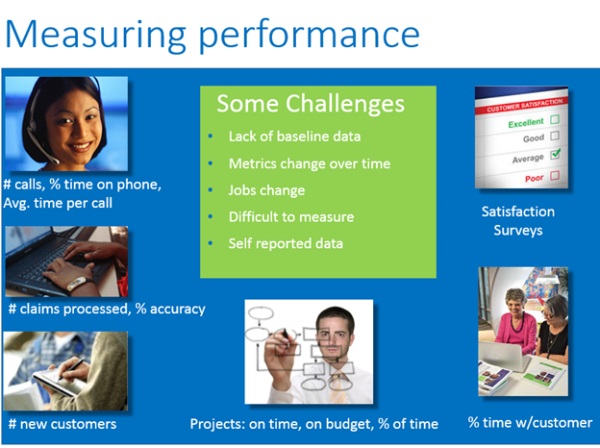 Midway through the workplace project, the C-Suite changed. This of course made employees at SCAN deeply concerned about their work-at-home program and new workplace design. Fortunately, the team updated the mobility program data regularly and could prove that the program was effective and the CEO allowed it to continue. Figure 4: Program Evaluation Methods shows some of the data gathering methods and timing.
With data, the FM team could dispel the myths of telecommuting a second time for the new C-Suite. For example:
Myth: I cant see em, so how do I know theyre working?
Fact: Productivity is up because of visible metrics.
Myth: How will they collaborate if theyre not here?
Fact: Focus groups and surveys show that collaboration increased.
Myth: They will become disconnected.
Fact: Surveys show employees are equally as engaged.
Myth: Telework negatively affects employee morale or company spirit.
Fact: Focus groups and employee satisfaction surveys show a positive effect on employee morale.
Making it Stick
The mobility program at SCAN survived a C-suite change because of a robust implementation program and good data that was revised on a regular basis. Some survival lessons learned include:
Understand how decisions are made and the drivers for workplace change.
Understand the supporting evidence for the business drivers.
Data is King. Consistently collect and analyze data and adapt your workplace strategy accordingly.
Communications and change management shouldnt stop after the move is over. Update executives regularly on your workplace strategy.
Continuous mobility training for employees and managers is key to success of the project. One-time training is not enough. A great resource for mobility training is E-work.com.
A workplace strategy is constantly evolving as the company changes. Stay closely connected to the business strategy and, when updated, review the workplace strategy simultaneously.
With the new war for talent, the workplace conversation is moving from cost to value. While cost is still a major driver of workplace change, competitive advantage as a major driver is intensifying. According to a recent Towers Watson Study that surveyed over 700 global companies to identify the 4 top C-suite workforce areas of concern as:
Loss of talent in key skills areas
Lack of succession planning/management
Inability to attract & retain talent
Low levels of employee engagement
CEOs are paying more attention to workplace as a talent attraction tool and workforce planning together with workplace strategy is on the rise. More software tools are entering the market to measure employee satisfaction, engagement, and even mood. Employee workplace amenities and design are becoming vital in recruiting employees. Key questions to ask:
What are you doing in your FM department to support C-suite concerns about the workplace as a talent attraction tool?
What data are you collecting to provide value in your workplace strategy?
How are you, as an FM, helping the C-suite and HR to make informed decisions about the workplace to attract and engage talent?
More information about the SCAN Health Plan case study can be found in the IFMA Foundation publication Work on the Move: Driving Strategy and Change in Workplaces.
Diane Coles Levine is the Executive Director of the IFMA Foundation. Previously, she was the founder and managing partner at Workplace Management Solutions. She served on the IFMA Board of Directors, is Past Chair of the IFMA Foundation and was named the 2015 IFMA Corporate Real Estate Council Distinguished Member. She is an international speaker and guest lecturer at Vienna University of Technology and MIT Professional Education Programs. Diane is co-editor and author of Work on the Move.