FMLink Newsletter — Energy Management — March 15, 2018
This Software & Technology newsletter is one of a series of five specialized newsletters, supplementing our weekly general newsletter (sent on Mondays). For each of five weeks you will receive a different specialized newsletter on Thursdays or Fridays, focusing on a different FM-related area. To manage which ones you receive, click on the link below.
This newsletter covers software and technology news from February 1 through March 7, 2018.
TOP STORIES
If you've been waiting for an easier way to access ASHRAE Standard 90.1 resources to help meet your energy performance goals, your wait is over (Products and Services » Publications)
Want to learn about today's more efficient HVAC systems? Take a look at ASHRAE's new courses (Products and Services » Webinars, Education and Training)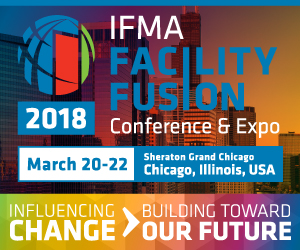 Water-saving synergies (Magazines » FMJ)
How smart HVAC systems can deliver cost and energy savings without draining water resources
Incubating sustainability initiatives with strategy (Sustainability » FEA (Facility Engineering Associates, P.C.))
Sustainability initiatives take root in strategic environments. 
Get insights into adopting building automation technologies from this CABA paper (Products and Services » Publications)
This new ANSI/AMCA standard will help you compare total energy performance for all fan types (Products and Services » Publications)
If you're tasked with lowering emissions, try propane equipment, finds this study (Surveys and Trends)
Best practices for commercial kitchen cleaning (Magazines » ISSA Today)
If you have a kitchen in your facility, you can't do without these tips
Don't just wait for the grid to go down — generator sets are becoming more interactive and smart (Surveys and Trends)
MORE STORIES
Backup power that lasts longer — take a look at these Lithium Ion-based UPS systems that use less space and energy and last 10-15 years (Energy » Products and Services)
If you're looking for energy-efficient access flooring, Haworth has joined two companies to create a one-stop source for systems and services (Corporate and Organization » Developments)
See why the Canadian government chose JLL's smart building technology to reduce energy consumption (Contract Awards)
Not sure what to do with all your building energy and water performance data? This new toolkit from IMT can help you use it to drive savings (Products and Services » Publications)
Find out just how much energy DOE determined your facilities can save by meeting ASHRAE Standard 90.1 (Developments » Energy Management)
Do building occupants and visitors think it takes too long to charge their devices? Check out this new combined USB charger/tamper-resistant receptacle from Leviton (Energy » Products and Services)
If you're looking for a high-efficiency energy recovery ventilator to fit in a small space, check out Ruskin's new low-maintenance, BACnet-enabled models (HVAC/IAQ » Products and Services)
Monitor building operations and visualize exactly where there is an issue, with this integrated smart building solution (Products and Services » Software & Technology)
Identify potential energy and cost savings through electric motor upgrades with Regal's free calculator app (Products and Services » Software & Technology)
See how a new nationwide contract will provide performance-based energy services for six years to state and local agencies, educational facilities (Contract Awards)
–