by Brianna Crandall — June 14, 2019 — Contract furniture manufacturer OFS and its healthcare brand Carolina came home with laurels from the Best of NeoCon Competition at last week's NeoCon show, with three Gold awards and a Best of Competition. The LeanTo architectural lounge solution won Gold in the Acoustic Privacy and Modular Solutions category; the Kasura chair earned Gold for Conference Seating, and the Obeya wood framework gained both the Gold for Architectural Products and the coveted Best of Competition.
OFS and Carolina promised their customers a "products not prototypes" commitment at NeoCon, which it is reportedly delivering for the sixth NeoCon in a row. Product introductions by the brands are ready-to-order and available for delivery in eight weeks.
The company says it creates great products and experiences by focusing on three big ideas in the design process: "Simple. Purposeful. Personal." These principles support the human needs to connect, discover, focus, and restore, which draw us to different environments and places throughout the day. The company says its innovative solutions inspired by these needs allow more choice, so you can apply your whole self to work, healing and learning.
The award-winning OFS solutions unveiled at NeoCon 2019, with OFS's comments, are:
Best of Competition and Gold in Architectural Products category: Obeya architecture
Designer: Webb Associates
Through the richness of wood, Obeya's design was intended to simplify and define space. Spaces designed with intent communicate expectations without precisely prescribing them. Obeya is a framework that brings settings and people together accordingly, based on the human needs of privacy and belonging.
Gold in Acoustic Privacy and Modular Solutions category: LeanTo architectural lounge solution
Designer: OFS and Webb Associates
LeanTo is an architectural lounge solution created to provide privacy destinations from noise and distractions within today's modern interiors, especially in open-plan settings. Like nooks, alcoves and corridors, LeanTo spaces present an opportunity for rest, focus, connection or discovery. Whether in an office, healthcare or education setting or a public space, the solution gives workers a choice and a chance to escape the norm, and can show employees they are valued
Gold in the Conference Seating category: Kasura seating
Designer: Webb Associates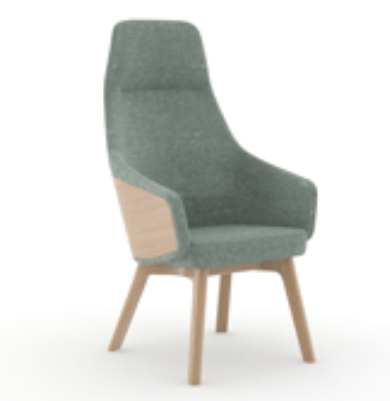 Kasura offers an array of beauty and aesthetics. A beautiful veneer wrap welcomes the user as they approach the chair. The warmth of wood is elegant and natural and appeals to our innate love for nature. The name Kasura has roots in comfort, which can be felt in the contours of the sit.
For more information about Obeya, Kasura or LeanTo, visit the OFS website.