by Brianna Crandall — March 17, 2017 — The Professional Retail Store Maintenance Association (PRSM), the authority on retail, multi-site facilities management (FM), has released its PRSM Supplier Talent Acquisition and Retention Benchmarking Report. The report shows 81% of PRSM suppliers compete for recruiting and retaining the same talent in the highly in-demand project managers and skilled trades professionals PRSM Retailer Members depend upon most — HVAC technicians, electricians, plumbers, mechanics, construction managers, general contractors, and related professionals.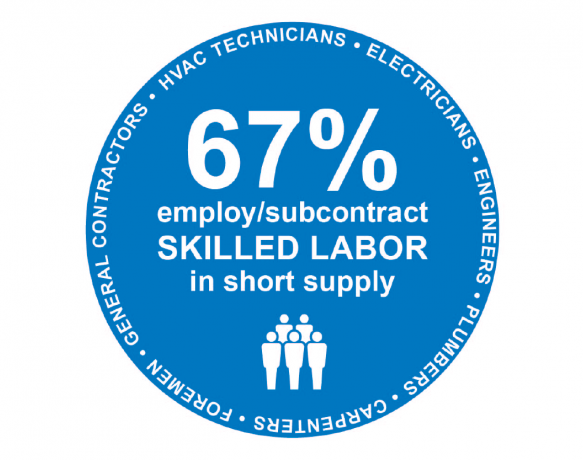 The report revealed that to improve recruitment, U.S.- based PRSM Members need to use social media more, increase recruiting budgets, and provide better training and education for talent acquisition teams. International PRSM Members find small talent acquisition teams, budget, and understanding acquisition metrics as their top challenges.
To aid PRSM members, the report provides the most recent recruiting information as well as guidelines to create plans for recruitment and employee engagement. It also includes information on the use of social media in recruitment, how to measure hiring quality, and employing veterans.
The industry-defining PRSM report also found the following:
86% of salaried, non-management PRSM employees were recruited through social media
81% used LinkedIn to recruit, and rate it as the most effective social media recruiting tool
67% and 62% respectively use Facebook and Twitter to recruit
52% rank "quality of hire" as the most critical metric for successful hiring
77% used performance ratings to evaluate new hires
100% reported finding/sourcing qualified candidates as the top challenge
67% of employees left for a better offer from another employer
37% of employee left due to inadequate salary or bonuses
48% of PRSM employers want to hire veterans or have programs in place to recruit vets
The report also provides checklists for successful workforce retention that includes action items for onboarding, compensation/benefits, ongoing manager/employee discussions, career development/growth, communication, and managerial and organizational culture training.
Bill Yanek, PRSM CEO, emphasized the importance of the report findings by stating:
A skilled workforce is critical to the success of retail facilities management and many other industries. PRSM provides and develops excellent FM educational programs and is investigating other ways to address the issue.
The PRSM Supplier Talent Acquisition and Retention Report is available to download with member login or new visitor registration. PRSM Association's Resources Center provides additional management tools exclusively for the retail FM and supplier community.