by Brianna Crandall — November 27, 2017 — Technavio's latest market research report on global unitary HVAC systems, which combine heating, cooling and ventilation components in one assembly, provides an analysis of the most important trends expected to impact the market outlook from 2017 to 2021. The market is expected to grow at a compound annual growth rate (CAGR) of 6.71% during the period.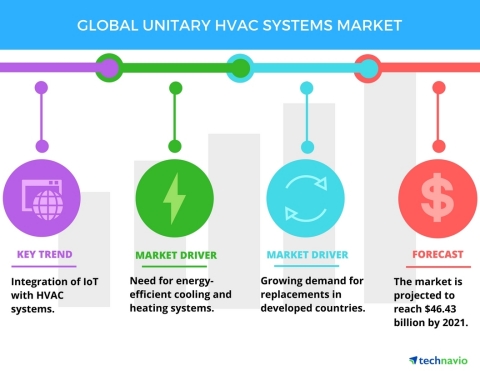 According to the report, one of the key factors driving the global unitary HVAC systems market is the need for energy-efficient cooling and heating systems. Traditional HVAC systems that are used in commercial, residential, and industrial applications are energy-intensive and consume a large amount of electricity. The growing international emphasis on energy conservation has led to the increased demand for unitary HVAC systems. Both residential and commercial end-users prefer the use of energy-efficient HVAC equipment to cut down their energy costs.
As a result, sustainable and energy-efficient HVAC systems such as variable refrigerant flow (VRF), chillers and air handling units (AHUs) have gained popularity. Radiant and geothermal cooling systems are other advanced HVAC systems available in the market. These systems function on vapor-absorption chiller-machine technology.
The three emerging market trends driving the global unitary HVAC systems market according to Technavio research analysts are:
Growing demand for smart homes and the development of smart cities
Building automation systems (BASs)
Integration of IoT with HVAC systems
Development of smart cities
Smart home technologies permit homeowners to connect appliances such as lighting systems, heating and cooling modules, television sets, computers, and security systems, and to control the appliances using their smartphones and tablets.
Read this article from Multi Family Executive to understand some of the benefits and challenges of using smart home technology in a multifamily residential setting: "The Challenge with Smart-Home Technology in Multifamily."
Similarly, smart cities use various types of electronic data collection sensors to supply information used to manage assets and resources efficiently.
Building automation systems
Building automation systems, or BASs, control and monitor HVAC and other facilities in each building. These are embedded with computing and digital communication tools that let them enhance energy efficiency. The number of integrated BAS installations worldwide has increased because of the rise in the number of construction projects and building retrofits.
BAS technology has become more advanced due to the improvements in sensor technology, availability of cheaper and faster communication systems, and improved user interfaces. Manufacturers are implementing open protocols such as the Internet protocol, to provide improved control solutions. BAS is becoming a popular technology as it enhances the interaction and operability between the HVAC, lighting, fire, and security control systems of a building.
Integration of IoT with HVAC systems
The Internet of Things or IoT connects components or systems to the Internet and allows them to send and receive data over the network. IoT permits devices to communicate without human-to-human or human-to-computer intervention. These systems enable real-time remote monitoring and actionable analytics. They also aid management teams to enhance building and equipment control. This helps in reducing operating costs, points out the report.
According to Gaurav Mohindru, a lead analyst at Technavio for Tools and Components:
Constant innovations and development in the field of technology have changed the way businesses work and people live. The action being taken to achieve higher energy efficiency in constructing and managing buildings provides a huge potential for the integration of IoT. HVAC systems that can make intelligent decisions on their own based on the presence, weather, and a lot of other parameters can result in a substantial amount of energy and cost savings.
The report covers the present scenario and the growth prospects of the global unitary HVAC systems market for 2017-2021. To calculate the market size, the report considers the new installations / sales / value and excludes retrofit / replacement / spares / aftermarket / services market. The report also includes a discussion of the key vendors operating in this market.
Technavio's sample reports are free of charge and contain multiple sections of the report including the market size and forecast, drivers, challenges, trends, and more. The complete report, Global Unitary HVAC Systems Market 2017-2021, is available to purchase from the Technavio Web site.