by Brianna Crandall — June 9, 2014—Holland, Michigan-based furniture and architectural products company Trendway Corporation is introducing three new seating offerings in June: Zego, Quello, and Feek Shimoda Shapes. The company's descriptions are below.
As Trendway's newest seating addition, Zego is designed to offer the best in design, comfort, quality and value in a flip/nest chair. The simple, timeless aesthetic complements a wide range of interior designs. The breathable, premium mesh back provides a responsive flexing action to enhance comfort—especially during long meetings or training sessions. Light and mobile, Zego zips into place when needed, then nests snugly when not in use for compact, space-saving storage.
Attention to detail is evident in the beautiful fit and finish, and in touches like the seat's smooth underside that maintains the clean, sleek look of the chair when nested for storage. The chair comes standard with nylon casters, full armrests and a fully upholstered seat. It is offered in a selection of upholstery options and two frame colors.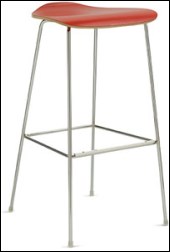 Trendway's new Quello Bar Stool makes a bold statement—quietly. Slender chrome legs support a slim, gracefully curved seat. The simple, beautifully proportioned silhouette can bring elegance to any setting. The Beech plywood seat is molded in gentle curves designed to support the human body. Quello is scaled to provide comfort for a wide range of body types, meets ANSI/BIFMA standards, and offers a generous seat pan. The well-placed aluminum foot rest adds to user comfort. With standard glides, Quello slides easily from the background to center stage. The seat is offered in a selection of Red or White laminate top or natural Beech with a clear lacquer finish.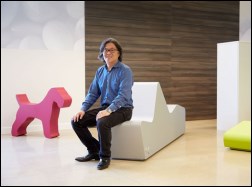 Contract Magazine's 2013 Designer of the Year Joey Shimoda partnered with Trendway Corporation to introduce an exclusive new line of furniture that brings sophistication to coated foam design while celebrating the fun factor. The partnership explores the use of new technologies like three-dimensional (3D) printing that give designers increasing control and expanded freedom to create custom shapes and designs, and combines it with the speed and flexibility Feek-coated foam brings to that process.
The Shimoda Design team, including Susan Chang, Mindy King, Gabriel Santos and Christopher Carlton, learned about the "extruded" type of manufacturing process and experimented with shapes, textures and custom colors while incorporating a sense of fun, and designing for social collaboration. The designs embody the medium's inherently playful side while incorporating a thoughtful and intentional approach to the sculptural shapes' interaction with people and the space they inhabit. The first results of their creative journey will be on display in June: Phoebe the Wire Fox Terrier, Super Lounge, Low Lounge and Work Lounge (picnic basket)—a work surface as well as a seating surface.