IREM's new handbook shows you how real estate professionals can become leaders
How do IoT-enabled solutions impact how you operate your buildings? What can you do that you couldn't do before?
Now you can troubleshoot and configure these heat pumps from any connected device
Neocon 2017: A task light that stays stable in multiple positions and a monitor arm base to charge your devices are just two of Humanscale's people- and eco-friendly intros
Take the guesswork out of code compliance and efficiency with Eaton's new dimmers
If your project calls for flooring, use FCICA's latest guide to find a contractor
Promoting workplace safety — ASSE book gives a new angle on this perennial issue
Looking for sustainable furniture? Check this extensive contract furnishings resource
See what's transforming the U.K. FM industry in this report from Frost & Sullivan
NeoCon 2017: Do your outdoor trash cans take a beating? Rubbermaid's new line handles extreme conditions with style
Should the 179D energy efficiency tax deduction be extended? See what BOMA found
more news »
Featured Articles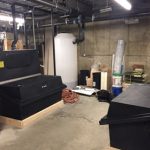 Getting down and dirty with composting toilets
What to do with human waste, and how it can save you money and our environment at the same time
Green walls: A growing trend
Benefits of green walls, practical considerations for installation and maintenance
Supercharge your sustainability efforts: Using technology to drive the industry forward
Harnessing the power of technology to create a greener future
Benchmarking for high-performance investments
Charging forward: Unlocking the opportunity of an environmental mitigation trust
Alternative funding mechanisms to add electric vehicle charging stations to facilities
Investing in the future with CSR (Corporate Social Responsibility)
Who are the CSR stakeholders and what role does each play?
Keeping PACE – An innovative funding mechanism to allow funding of energy efficiency upgrades
Operationalizing resilience in facilities
Tips on enhancing employee productivity in the workplace
What the FM can do to contribute to employee productivity
The standard of care in floor care
How to keep slip-and-fall cases out of your facility
The cultures of clean
How you clean can be affected by cultural differences. Learn which solutions can work for all of them.
more featured articles »
Upcoming Events
Jul 2 - Jul 9 : UIA World Congress of Architecture (UIA 2017 Seoul)
Jul 8 - Jul 12 : SCUP-52 Annual Conference (integrated higher education planning)
Jul 21 - Jul 23 : APPA/PCAPPA/BayAPPA 2017: Annual Conference and Exhibition (educational facilities)
Jul 27 : RICS BIM Conference 2017