by Brianna Crandall — December 20, 2017 — Enerlites, a manufacturer of high-quality lighting controls and wiring devices for commercial, residential and industrial applications, has just introduced 57302 & 57302-3K: a line of decorator dimmer switches with easy wiring controls. The dimming capabilities of these switches range between 0-100%. The switches are said to be compatible with most high-efficiency light bulbs available in the market.
High-efficiency dimming switches
Most light-emitting diode (LED) drivers available in the market for dimmable LEDs pose certain limitations in terms of control and performance output, according to Enerlites. Greg Reese, national sales manager, Enerlites, explained:
Dimmer switches are used in homes and offices, because they help spruce up the ambiance of the place. Most traditional dimmable LED drivers available in the market offer marginal output up to only 40%, and have complicated wirings. With 57302 & 57302-3K, you can easily achieve 0-100% dimming, and control multiple CFL[s] or LEDs on a single circuit.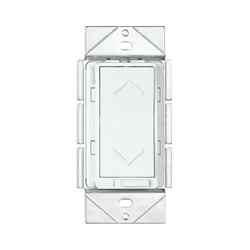 The Enerlites 57302 energy-efficient, multi-location dimmer switch provides a wide range of dimming performance for dimmable LEDs and CFLs up to 150 W. Enerlites 57302 dimmer switches are single pole dimmers, which are designed for 700-watt incandescent/halogen, or 150-watt dimmable LED/CFL, thereby enabling users to control various bulbs on the same circuit easily, says the company. Enerlites 57302-3K switches are three-way switches, which reportedly have a unique wiring method; these switches make it easier to control load from multiple sources at a single point.
The dimmer switches 57302 & 57302-3K are rated at 120 V, and do not require a power pack. These switches not only allow users to save electricity, but also reduce their carbon footprint, says the company. The switches are offered with a two-year warranty.
Key features of high-efficiency 57302 & 57302-3K dimming switches:
A suitable replacement for various traditional light switches
Designed to offer a wide range of dimming (0-100%) for dimmable CFL and LED bulbs
Ideal for multi-gang installations
Designed for ambient operating temperature range from 32°F to 104°F at 0% to 90% humidity
Long mounting strap enables rigid installation
UL listed
California Title 24 compliant
A look into the greener future
These energy-saving wall mountable dimming switches are only the beginning of a line of groundbreaking products available at Enerlites, says the company. Reese added:
Like all other energy-efficient lighting controls, these dimming switches are designed for those consumers who demand energy-saving and efficient lighting controls.
For more information on 57302 & 57302-3K dimmer switches, or to purchase them, visit the Enerlites Web site.